Baked Cauliflower In Cheese Sauce Recipe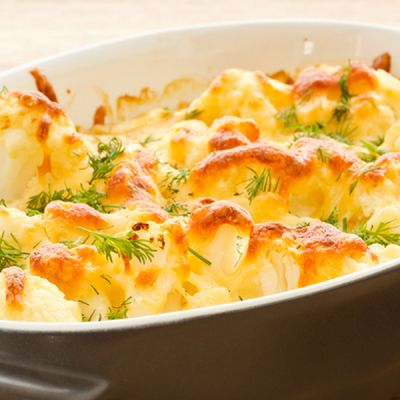 A simple and decadent casserole recipe that will impress your family. Cauliflower is a cruciferous vegetables, a family of veggies that have been shown to prevent cancer.
Ingredients
1 head cauliflower ( large)
2 tablespoons butter
6 tablespoons flour (GF flour for gluten free version)
1 pinch hot red pepper flakes
2 cups milk
1 -2 cup cheese, grated - any kind you have in the fridge will be delicious.
1/2 teaspoon garlic powder
salt and pepper
Directions
Cut cauliflower into bite size pieces and steam until just tender.
While it is steaming, melt the butter and add the red pepper flakes and garlic powder.
Add the flour and mix until smooth and thickened.
Mix in the milk a bit at a time stirring each time until smooth.
Cook, stirring constantly, over a medium heat until thick and creamy - be patient.
Add 1 cup cheese cheese and stir until melted.
Remove sauce from heat and salt and pepper the sauce to taste.
Spread the cauliflower in a 9 x 13 pan (or casserole dish).
Pour the cheese sauce evenly over the cauliflower and then sprinkle with 1 cup cheese.
Bake at 350 F until cheese is melted.