Best Chocolate Muffins Recipe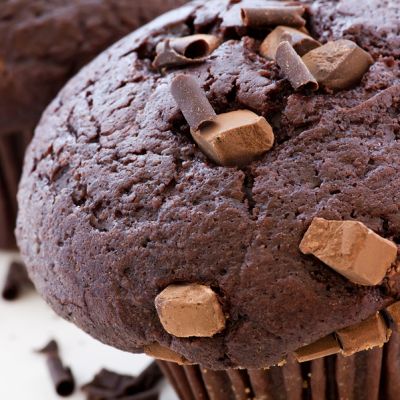 This best chocolate muffins recipe makes a super chocolate chunky muffin.
Special Offer
Get the Fat Burning Kitchen Book - FREE
Your 24 Hour Diet Transformation to Make Your Body a Fat-Burning Machine! Get your FREE copy here.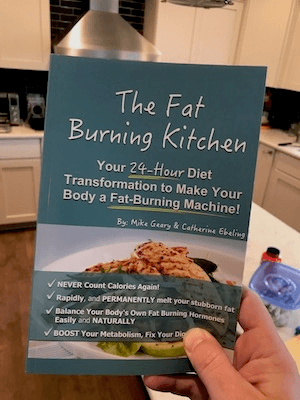 Ingredients
3/4 cup good quality cocoa powder
1 teaspoon baking powder
3/4 cup butter, melted
1/2 cup boiling water
1 Tablespoon vanilla
1 cup granulated sugar
2 eggs
1 1/3 cups all purpose flour
1/4 teaspoon salt
1/2 cup milk chocolate chunks
1/4 cup dark chocolate curls
(Makes 12)
Directions
Preheat oven to 350°F.
Line 12 muffin tins with paper liners.
Combine cocoa powder and baking powder in a medium bowl and mix until combined.
Pour in boiling water and mix with a wooden spoon until combined.
Add the melted butter and vanilla and mix well.
Pour in the sugar and mix until well combined.
Stir in eggs, one at a time, mixing after each addition. Mix until well combined.
In a separate large bowl, combine the flour and salt.
Pour in the chocolate mixture and mix until well combine.
Gently fold in the chocolate chunks.
Spoon badder into the prepared muffin tin, filling each cup 3/4 full.
Transfer muffin tin to the preheated oven and bake for 25-30 minutes or until a tester inserted into the centre of a muffin comes out clean.
Once cooked, remove muffins from oven and allow to cool in the tin for 5 minutes before removing.
While they are cooling, spindle a few chocolate curls over each muffin.
Remove muffins from tin and allow to cool on a wire rack.
Serve muffins warm or cold.