Blueberry Glaze For Cake Recipe
This blueberry glaze recipe adds the finishing touch to this fluffy white cake. This is a beautiful cake that you will be proud to serve.
Special Offer
Get the Fat Burning Kitchen Book - FREE
Your 24 Hour Diet Transformation to Make Your Body a Fat-Burning Machine! Get your FREE copy here.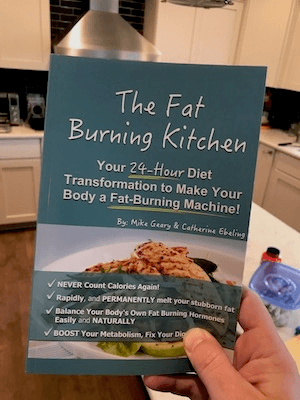 Ingredients
Blueberry Sauce
2 cups fresh blueberries
1/2 cup water
1/3 cup granulated sugar
1 1/2 Tablespoons cornstarch whisked into 2 Tablespoons water
Cake
4 large egg whites at room temperature ( You need to have 1/2 cup egg whites, if you eggs are smaller you might need to use 5 eggs)
1 1/2 cups granulated sugar, divided
2 1/4 cups cake flour
3 teaspoons baking powder
1 teaspoonsalt
1/3 cup + 1 Tablespoon vegetable oil (cold-pressed)
1 cup + 1 Tablespoon whole milk, at room temperature
1 1/2 teaspoon pure vanilla extract
White Icing
1 cup(2 sticks) butter, at room temperature
1 teaspoon clear vanilla extract
4 cups sifted confectioners' sugar
2 Tablespoons milk
Makes
About 2 1/4 cups of icing
Directions
Blueberry Sauce
Using a medium sized saucepan, combine the blueberries with 1/2 cup of water.
Bring to a boil over medium-high heat.
Once it boils,turn down, cover the saucepan and let the blueberries simmer for 5 minutes stirring once or twice.
Uncover and stir in the cornstarch/water mixture.
Increase the heat again and bring to a boil and boil for a full minute.
Turn off the heat and let the sauce to cool to room temperature before using.
Cake
Pre-Heat oven to 350 degrees F.
Line (2) 9 inch round cake pans with parchment paper and grease the paper.
Separate the eggwhites. (You can use the yolks for scrambled eggs.)
In a mixing bowl, using an electric mixer (use a whisk attachment if you have one) beat the egg whites until they are frothy.
Beat in 1/2 cup of the sugar, adding just tablespoon at a time and continue beating until all the sugar is incorporated and the egg whites are stiff.
In a large mixing bowl, stir together the flour, 1 cup leftover sugar and salt.
Use and electric mixer on low speed to mix in the vegetable oil, milk and vanilla. Beat for 2 minutes until the mixture is well combined.
Fold the stiff egg whites gently into the batter.
Divide the batter into the two prepared pans and place in the preheated oven.
Bake for 30-35 minutes or until a toothpick inserted in the middle comes out clean.
Remove from the oven to cooling racks. Let the cakes sit in the pans for 5 minutes, then remove the cakes to the racks. Remove the parchment paper.
Let the cakes cool before icing.
White Icing
Using an electric mixer, and a large mixing bowl, beat the butter until creamy.
Beat in the vanilla.
Using medium speed, beat in the confectioners' sugar a little at a time.
Add the milk one tablespoon at a time and beat until a nice fluffy consistency.
If the icing is too thick, add a little more milk.
Put some of the icing into a piping bag if you plan to use.
Assembly
Place one layer of cake onto your cake plate.
Spread frosting onto the first layer.
Place top layer of cake spread frosting on the top and sides.
Note: Put some of the icing into a piping bag to make decorate the cake as shown and spoon the blueberry sauce onto the cake top.