Butterscotch Banana Bread Waffles Recipe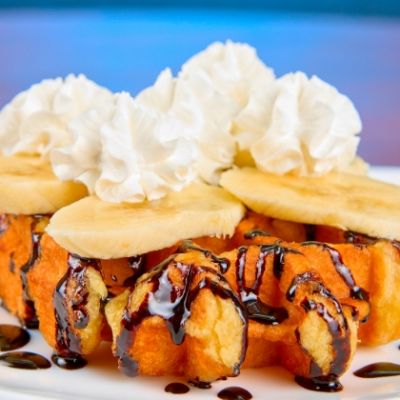 A seriously decadent breafkast.
Ingredients
2 1/4 cups flour
1/2 teaspoon baking powder
1/2 teaspoon baking soda
1/2 teaspoon salt
1 teaspoon cinnamon
1/2 teaspoon nutmeg
1/4 cup brown sugar, packed
3 eggs, separated
2 cups sour milk ( or buttermilk)
2 ripe bananas, mashed well
1 cup butterscotch chips
Topping ideas: maple syrup, whip cream, chocolate sauce, butter.
Directions
Sift together flour, baking powder, baking soda, salt, cinnamon, nutmeg and brown sugar in a large bowl.
In another large bowl beat the egg yolks.
Add sour milk and mashed bananas.
Stir in the dry ingredients until well mixed.
In a mixing bowl, whip the egg whites until stiff peaks form.
Fold into batter.
Gently stir in butterscotch chips.
Heat waffle iron and brush with oil.
Pour batter into iron and cook until golden brown.
Serve with maple syrup butter, chocolate sauce, bananas and whip cream.