Caramel Praline Cheesecake Recipe
Creamy, crunchy and perfect caramel cheesecake
Special Offer
Get the Fat Burning Kitchen Book - FREE
Your 24 Hour Diet Transformation to Make Your Body a Fat-Burning Machine! Get your FREE copy here.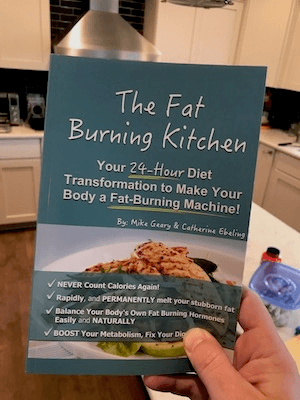 Ingredients
1-1/4 cups graham crumbs
1/4 cup butter, melted
1 pkg (about 300g) caramels, divided
1/4 cup milk, divided
1 cup chopped pecans, divided
3 pkg. (250 g) cream cheese, softened
3/4 cup sugar
1 tsp. vanilla
3 eggs
1 carton whipping cream, whipped
Directions
HEAT oven to 350°F.
MIX graham crumbs and butter; press onto bottom of 9-inch springform pan lined with parchment paper.
RESERVE 4 caramels, 1 Tbsp. milk and 1/4 cup nuts for later use. Microwave remaining caramels and milk in microwaveable bowl on HIGH 1-1/2 min., stirring after 45 sec. Stir until caramels are completely melted and mixture is well blended. Stir in remaining nuts; pour over crust.
BEAT cream cheese, sugar and vanilla with mixer until well blended. Add eggs, 1 at a time, mixing on low speed after each just until blended. Pour over caramel mixture.
BAKE 45 to 50 min. or until centre is almost set. Run knife around rim of pan to loosen cake; cool before removing rim. Refrigerate 4 hours.
WHIP the whipping cream in a glass bowl and top onto cheesecake.
MICROWAVE reserved caramels and milk in microwaveable bowl on HIGH 30 sec.; stir until smooth.
Drizzle over cheesecake; top with reserved nuts.