Cheesecake With Caramel Orange Sauce Recipe
A Delicious recipe for cheesecake with caramel orange sauce.
Special Offer
Get the Fat Burning Kitchen Book - FREE
Your 24 Hour Diet Transformation to Make Your Body a Fat-Burning Machine! Get your FREE copy here.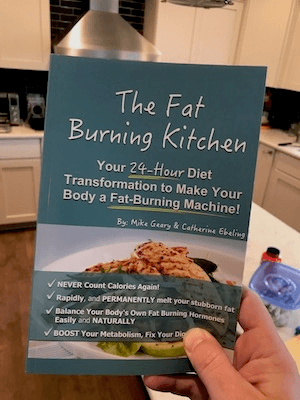 Ingredients
1 1/4 cups Graham Crumbs
1/4 cup butter, melted
3 pkg.(250 g each) Cream Cheese, softened
1/2 cup sugar
3 eggs
Orange sauce
1 oranges
1 1/2 cups sugar, divided
1/4 cup water
2 tablespoons unsalted butter
1/8 teaspoon coarse kosher salt
1/2 cup chocolate shavings
Directions
PreHeat oven to 350 degrees F
Mix graham crumbs and butter; press onto bottom of 9-inch springform pan.
Beat cream cheese and sugar in large bowl with mixer until well blended. Add eggs, 1 at a time, beating on low speed after each just until blended. Pour over crust.Bake 40 to 45 min. or until centre is almost set. Run knife around rim of pan to loosen cake; cool before removing rim. Refrigerate 4 hours.
To make the sauce. Very thinly slice 1 orange into rounds and add 1/2 cup sugar; let stand at room temperature 1 hour.
Combine 1 cup sugar and 1/4 cup water in heavy large saucepan. Stir over medium heat until sugar dissolves. Increase heat; boil without stirring until syrup is deep amber. Remove from heat. Carefully add orange-sugar mixture to caramel. Return pan to medium heat; simmer until orange slices are tender,add butter and coarse salt stirring occasionally, 12 to 15 minutes. let cool
To serve, top with orange sauce and chocolate shavings just before serving.