Cheesy Cornmeal Crust Pizza Recipe
A Very tasty recipe for cheese covered cornmeal crust pizza, Serve with marinara sauce for dipping.
Special Offer
Get the Fat Burning Kitchen Book - FREE
Your 24 Hour Diet Transformation to Make Your Body a Fat-Burning Machine! Get your FREE copy here.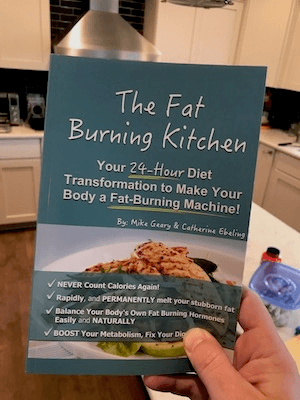 Ingredients
Cornmeal Crust
1 cup cornmeal
2 cups water
pinch salt
olive oil
Topping
2 cups mozzarella cheese
3/4 cup grape tomatoes
fresh cracked pepper
fresh thyme for garnish
Directions
Combine the cornmeal, water, and salt in a sauce pan and bring to a boil, let simmer 2-4 minutes until it is thick and creamy.
Remove from heat, and spoon onto on a baking sheet lined with parchment paper. Allow to cool to room temperature then cover in plastic wrap and refrigerate an hour or until you are ready to cook.
Preheat oven to 375.
Brush the crusts with olive oil and sprinkle with salt.
Bake 35 – 45 minutes, until firm and golden. remove from oven.
Arrange tomatoes around crust and top with cheese evenly all the way to the edges. Top with fresh cracked pepper and bake for 15 minutes or until cheese is melted and bubbly.