Cheesy Ham Biscuits Recipe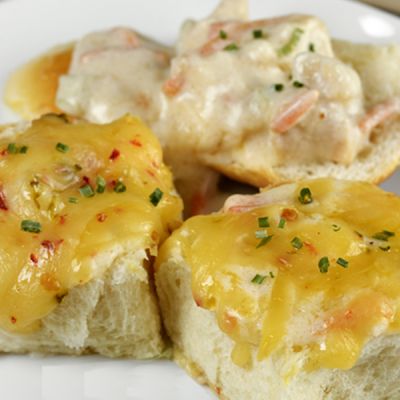 This Cheesy ham biscuit recipe is a yummy addition to any meal.
Ingredients
1 egg
2 tsp milk
1 package Flaky Layers Biscuits
3/4 cup diced ham pieces
1/4 cup thinly sliced green onion
3/4 cup shredded cheese
1/2 tsp garlic powder
Directions
Heat oven to 350 degrees.
Lightly oil a 11 x 7 or 12 x 8 glass baking dish.
In a large bowl, beat egg and milk with a wire whisk until smooth.
Separate dough into individual biscuits and cut each biscuit into quarters. Gently stir biscuit pieces into egg mixture to coat evenly. Fold in ham, and granulated garlic. Spoon mixture into prepared dish, arrange biscuit pieces in a single layer.
Baked for 23 - 25 minutes or until golden brown. immediately sprinkle cheese and green onion over baked biscuits.
Cut into squares to serve.