Cherry Cheesecake Pie Recipe
A delicious baked cherry cheesecake recipe
Special Offer
Get the Fat Burning Kitchen Book - FREE
Your 24 Hour Diet Transformation to Make Your Body a Fat-Burning Machine! Get your FREE copy here.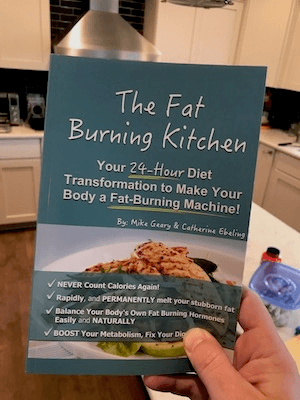 Ingredients
The Crust
1 1/2 cups finely ground graham cracker crumbs
1/4 cup white sugar
6 tablespoons butter
The Filling
2/3 cup cottage cheese
6 tablespoons sugar
1 tablespoon lemon rind, grated
1/2 teaspoon vanilla extract
2 eggs, separated
1/4 cup evaporated skim milk
1/3 cup instant nonfat dry milk
The Topping
1 (14.5 oz) can cherry pie filling
Directions
The Crust
Mix graham cracker crumbs, sugar and melted butter until well blended. Press mixture into an 8 or 9 inch pie plate.
The Filling
Combine cottage cheese, sweetener, lemon rind, vanilla extract, egg yolks, evaporated milk and dry milk in a blender and blend for about 1 minute until well mixed.
Transfer to a bowl.In another bowl beat egg whites until they stand in stiff peaks; fold into the cheese mixture.
Pour into your pie crust and bake 40 minutes at 350 degrees F. Let cool before putting the topping. Chill before serving.
In a covered saucepan, cook cherries in beverage until they are tender and liquid is evaporated. Sweeten, add cherry extract, spread over baked cheesecake and return to oven 5 minutes more.