Chocolate Glazed Walnut Star Cookies Recipe
A Sweet and easy recipe for chocolate glazed walnut star cookies. These cookies are a great little treat.
Special Offer
Get the Fat Burning Kitchen Book - FREE
Your 24 Hour Diet Transformation to Make Your Body a Fat-Burning Machine! Get your FREE copy here.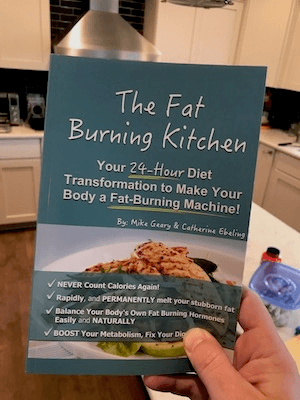 Ingredients
Makes 2 dozen
1 1/2 cups butter, at room temperatre
2 cups granulated sugar
4 eggs
1 teaspoon vanilla extract
5 cups all purpose flour
2 teaspoons baking powder
1 teaspoon salt
Icing:
1 1/2 cups confectionersí sugar
1/2 cup dark chocolate cocoa powder
3 Tablespoons water
2 Tablespoons corn syrup
1 teaspoon vanilla extract
Walnuts for garnish
Directions
In a large bowl, cream together butter and sugar until smooth. Beat in eggs and vanilla.
Stir in the flour, baking powder, and salt. Cover, and chill dough for at least one hour.
Preheat oven to 375 degrees F
Roll out dough on floured surface 1/4 inch thick. Cut into shapes with a cookie cutter.
Place cookies 1 inch apart on ungreased cookie sheets.
Bake 6 to 8 minutes in preheated oven. Cool completely on a wire rack.
Icing:
Mix confectionersí sugar with cocoa and sift them before mixing.
Donít have a sifter? Click to watch Grandmotherís video: How to Sift Without a Sifter
Then add water, corn syrup and vanilla extract. Mix until smooth. Add more water or confectionersí sugar if itís too thin or thick for you to pipe on.