Coffee Time White Cheesecake Recipe
A very yummy recipe for coffee time white cheesecake. Perfect enjoyed with an afternoon coffee.
Special Offer
Get the Fat Burning Kitchen Book - FREE
Your 24 Hour Diet Transformation to Make Your Body a Fat-Burning Machine! Get your FREE copy here.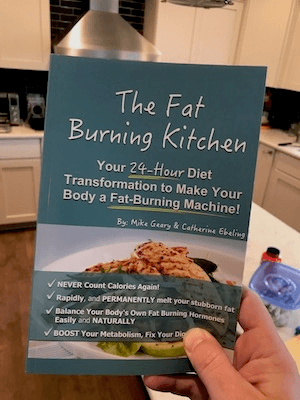 Ingredients
Crusts
1 1/2 cup graham cracker crumbs
6 tablespoons sugar
6 tablespoons butter, melted
Filling
4 cups cream cheese, softened
1 cup sugar
1 tablespoon lemon juice
1 tablespoon coffee extract
4 eggs
1 cup white chocolate chips, melted
Directions
Pre-heat oven to 325 degrees F. Have ready two 9 inch spring form pans.
In a mediuml bowl, combine cracker crumbs and sugar; stir in butter.Press half of the mixture onto the bottom of each prepared pan.
Bake for 10 minutes. Cool on a wire rack.
For filling, in a large mixing bowl, beat cheese, sugar, lemon juice and coffee extract until smooth. Add eggs; beat on low speed just until combined. Add melted chocolate. Pour over one crust.
Bake for 50-60 minutes or until center is just set, remove from oven andslide other crust onto top of cheesecake, .
Refrigerate 4 hours.
When chilled, dust with powdered sugar to serve.