Crab Stuffed Chicken Breasts Recipe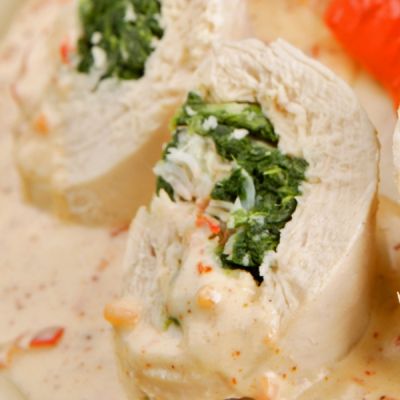 This recipe for Crab Stuffed Chicken Breasts will be a big hit with friends and family.
Special Offer
Get the Fat Burning Kitchen Book - FREE
Your 24 Hour Diet Transformation to Make Your Body a Fat-Burning Machine! Get your FREE copy here.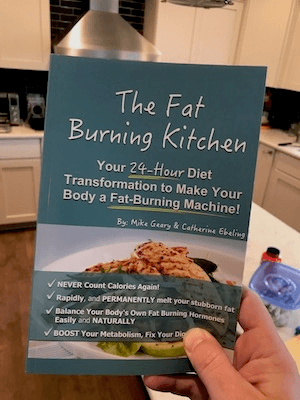 Ingredients
6 boneless, skinless chicken breast halves
4 ounces canned crab meat, drained, shredded and cartilage removed
1/2 cup chopped, cooked drained spinach, squeeze out all the moisture
1/4 cup dry fine bread crumbs
1/4 cup Cheddar or Swiss cheese
2 tablespoons finely chopped red bell pepper
3 tablespoons white wine
Salt
Pepper
Chicken bouillon cube
1/2 cup boiling water
1 bay leaf
3 tablespoons chopped fresh parsley
1 teaspoon cornstarch
1 tablespoon white wine
Directions
Flatten chicken between 2 sheets of plastic wrap to 1/4 inch (6 mm), using flat side of mallet or rolling pin.
Combine crab meat, spinach,crumbs, cheese and red pepper to make stuffing.
Drizzle 3 tablespoons white wine over chicken to moisten.
Put 1/4 cup (60 mL) stuffing in middle of each piece and roll up starting on shorter side, tucking in sides to enclose stuffing. Fasten with wooden picks or tie with butchers twine. Be sure to count how many toothpicks you put into each chicken breast so that you remove them all when it is serving time.
Sprinkle rolls with salt and pepper. Place in ungreased 2-quart (2 L) casserole dish.
Dissolve partial bouillon cube in boiling water in small cup. Pour broth into casserole dish. Add bay leaf and sprinkle parsley over rolls.
Bake, covered, in a 350 degree F oven for 45 minutes.
Remove rolls to platter.
Reserve liquid but discard bay leaf. Heat reserved liquid on stove.
Combine cornstarch and 1 tablespoon white wine in small cup. Slowly whisk into reserved liquid. Boil until slightly thickened. Remove wooden picks from rolls and pour sauce over to serve.
Makes 6 servings