Creamy Caramel Marble Cheesecake Recipe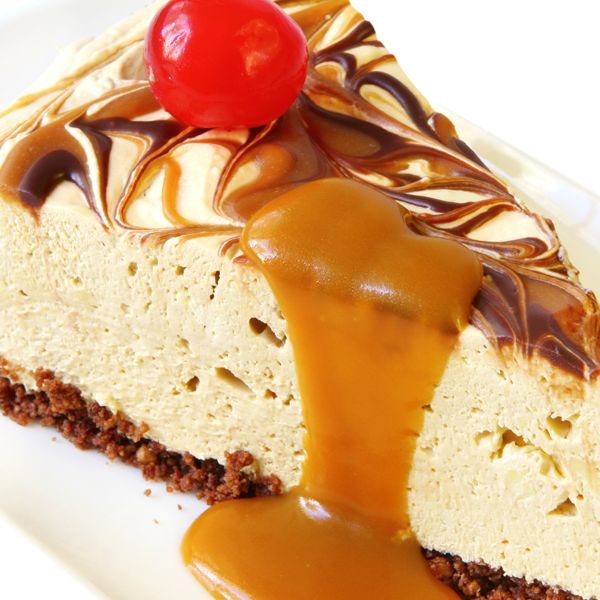 Learn how to make your own creamy caramel sauce recipe topped on a delicious marble cheesecake.
Ingredients
Crust:
18 chocolate wafer cookies
2 tbsp butter, melted
Filling:
1/4 cup whipping cream, divided
4 oz semi-sweet chocolate, chopped
16 ounces cream cheese, softened
3/4 cup sugar
2 eggs
1/2 tsp vanilla extract
1 tbsp butter, melted
Caramel Sauce:
1/2 cup sugar
1 teaspoon light corn syrup
1/8 liquid cup water
1/4 liquid cup heavy cream, heated until warm
1 tablespoons unsalted butter, softened
1/4 teaspoon fine grain sea salt
1/2 teaspoon pure vanilla extract
Optional garnish: 12 maraschino cherries
Directions
Preheat oven to 350F.
Blend wafers in food processor until crumbly.
Pour crumbs into bottom of a 9-inch springform pan.
Sprinkle melted butter over crumbs and stir with a rubber spatula until well combined. Press crumb mixture evenly into bottom of pan.
Bake crust until firm, about 5 minutes. Remove from oven and let cool while making the batter.
Melt chocolate chips and 2 tbsp whipping cream together, stirring frequently until smooth, 1-3 minutes. Set aside.
In a large bowl, beat cream cheese with an electric mixer until smooth.
Beat in sugar, eggs, vanilla and remaining cream until creamy.
Take 1/4 cup of the batter and stir into the chocolate mixture until thoroughly combined.
Brush sides of springform pan with butter, being careful not to break the crust.
Set pan on a baking sheet and pour white batter into the pan. Dab spoonfuls of chocolate batter randomly on the top and swirl with a knife or offset spatula until you have the desired marbled effect.
Bake cheesecake until set and center no longer jiggles when shaken, about 35-40 minutes.
Remove from oven and run a sharp knife around edge of cake to make sure it doesn't stick to the sides while cooling.
Cool for several hours, running knife around edge a few more times.
Carefully remove sides of pan. Chill in the refrigerator before serving.
Prepare caramel sauce in a heavy saucepan by stirring together the sugar, syrup, and water until the sugar is completely moistened.
Heat, stirring constantly, until the sugar dissolves and the syrup is bubbling.
Stop stirring and let bubble until it is a deep amber color.
Immediately remove it from the heat and slowly and carefully pour the hot cream into the caramel.
Use rubber spatula or wooden spoon to stir the mixture until smooth, scraping up the thicker part that settles on the bottom.
If any lumps develop, return the pan to the heat and stir until they dissolve.
Stir in the butter and salt.
Allow the sauce to cool for 3 minutes.
Gently stir in the vanilla extract.