Creamy Potato Broccoli Soup Recipe
A recipe for a quick and easy to make Creamy Potato Broccoli Soup
Special Offer
Get the Fat Burning Kitchen Book - FREE
Your 24 Hour Diet Transformation to Make Your Body a Fat-Burning Machine! Get your FREE copy here.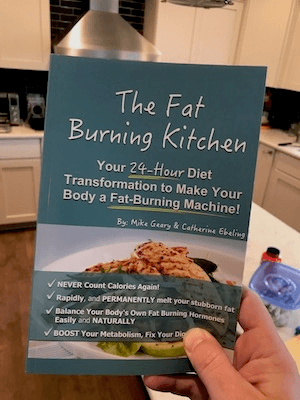 Ingredients
2 tablespoons butter
1 onion, chopped
2 cloves garlic, minced
1 3/4 pounds broccoli, thick stems peeled and diced (about 2 cups), tops cut into small florets (about 1 quart)
1 1/2 pounds boiling potatoes (about 5), peeled and cut into 1/2-inch cubes
3 cups canned chicken broth or homemade stock
3 cups water
1 3/4 teaspoons salt
1/4 teaspoon fresh-ground black pepper
1/2 cup grated Parmesan
Directions
In a large pot, melt the butter over moderately low heat. Add the onion; cook, stirring occasionally, until translucent, about 5 minutes.
Add the garlic, broccoli stems, potatoes, broth, water, salt, and pepper. Bring to a boil. Reduce the heat and simmer until the vegetables are almost tender, about 10 minutes.
In a food processor or blender, pulse the soup to a coarse puree. Return the soup to the pot and bring to a simmer.
Add the broccoli florets and simmer until they are tender, about 5 minutes.
Stir the grated Parmesan into the soup and serve.