Deep Dark Chocolate Cake Recipe
This deep dark chocolate cake recipe is the perfect treat for the true chocolate lover.
Special Offer
Get the Fat Burning Kitchen Book - FREE
Your 24 Hour Diet Transformation to Make Your Body a Fat-Burning Machine! Get your FREE copy here.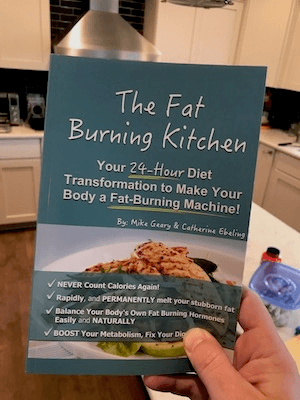 Ingredients
Dark Chocolate Cake
2 cups granulated sugar
1 3/4 cups cake flour
3/4 cup cocoa
2 teaspoons baking soda
1 teaspoon baking powder
1 teaspoon salt
2 large eggs
1 cup buttermilk
1 cup black coffee
1/2 cup grape seed oil
1 teaspoon vanilla extract
Frosting
1 cup dark chocolate chips
1 cup butter
1 teaspoon vanilla
4 cups confectioners sugar
4 Tablespoons milk
Serves 6 - 8
Directions
Preheat oven to 350F
Grease and flour three 8-inch round pans.
In a bowl whisk together, sugar, flour, cocoa, baking soda, baking powder, and salt. Mix in eggs, buttermilk, coffee, grape seed oil, and vanilla. Mix till well incorporated.
Pour into prepared pans and bake for 20 - 25 minutes, or until an inserted toothpick comes out clean, set to cool. Once cool to touch turn out of pan and let cool completely on a wire rack.
Frosting
Melt chocolate in a double boiler, or a pot filled with water and a bowl. Set to cool
Beat butter till creamy, mix in slowly sugar and vanilla. Once incorporated beat on high speed for about 5 minutes. Add melted chocolate and milk. Mix until well incorporated and beat on high speed for another 5 minutes. Spread between layers, on top, and on sides of cake. Serve.