Delicious Chocolate Cake Recipe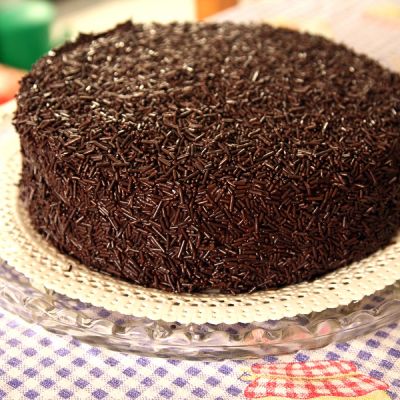 This delicious chocolate cake recipe is a two layer moist cake, with chocolate ganache in the middle and a dark chocolate buttercream frosting on the outsides. Cover this with chocolate cake sprinkles and you have a very beautiful cake for a special occasion.
Special Offer
Get the Fat Burning Kitchen Book - FREE
Your 24 Hour Diet Transformation to Make Your Body a Fat-Burning Machine! Get your FREE copy here.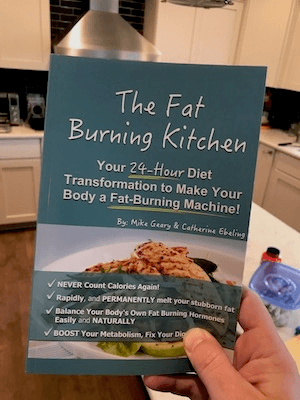 Ingredients
Cake
1 cup butter
1/4 cup cocoa
1 cup water
1/2 cup buttermilk
2 large eggs
1 teaspoon baking soda
1 teaspoon vanilla extract
2 cups granulated sugar
2 cups all purpose flour
1/2 teaspoon salt
Chocolate Ganache Filling
2 cups semisweet dark chocolate chips
1/3 cup whipping cream
1/4 cup butter, cut into pieces
Dark Chocolate Buttercream Frosting
12 ounces semi-sweet dark chocolate, chopped or chocolate chips
3 tablespoons dark cocoa powder
2 cups (4 sticks) butter, at room temperature
4 tablespoons whole milk, divided
1 1/2 teaspoons pure vanilla extract
3 cups sifted confectioners' sugar
Garnish
2 cups chocolate cake sprinkles
Directions
Cake
Preheat you oven to 350ºF.
Line (2) 9-inch round cake pans with parchment paper and grease. Set aside.
In a sauce pan over low heat, combine butter, cocoa and water. Stir constantly until the butter has melted and the mixture is smooth. Remove from heat and allow to cool.
In the bowl of a stand mixer fitted with a paddle attachment, beat together the buttermilk, eggs, baking soda and vanilla, until smooth.
Add the melted butter mixture to the buttermilk mixture and beat until well blended and smooth.
In a separate medium bowl, combine the sugar, flour and salt, mix well.
Gradually add the dry ingredients to the buttermilk mixture and beat until well combined.
Carefully pour the batter evenly between the two cake pans.
Bake for 20-25 minutes or until a cake tester inserted into the centre of the cake comes out clean.
Allow the cakes to cool for 10 minutes before removing them from the pans.
Remove cakes from the pans and cool completely before icing.
Chocolate Ganache
In a glass or metal bowl set over a pot of simmering water, combine the chocolate and cream. Whisk constantly until chocolate has melted and mixture is smooth.
Gradually add the butter to the chocolate mixture and continue to whisk until melted and smooth.
Remove ganache from heat and allow to cool for 15 to 20 minutes, whisking often.
Dark Chocolate Buttercream Frosting
In a glass or metal bowl set over a pot of simmering water, add the chocolate. Stir constantly until melted.
Once melted, remove from heat and add the dark cocoa powder, one Tablespoon at a time. Mix after each addition, until smooth. Set aside and allow to cool to lukewarm.
In the bowl of a stand mixer fitted with a paddle attachment, beat the butter on medium for 3 minutes, scraping down the sides of the bowl a few times.
Add 4 tablespoons of milk. Continue to beat until smooth.
With stand mixer speed off, add melted chocolate. Turn mixer on to low and beat well for 2 minutes.
Scrape down sides and beater.
Add the vanilla and beat for 3 minutes.
With speed on low, add powdered sugar, a half cup at a time, scraping down the sides of the bowl as you go.
Once all sugar has been added, beat on low/medium until light and creamy.
Adjust consistency, if necessary, by adding a small amount of milk or powdered sugar.
Assembly
To assemble the cake, place a small dollop of ganache in the centre of your cake platter. Place one cake on top of this ganache on the serving platter. This will stop the cake from moving.
Spread an even layer of the Chocolate Ganache Filling over the centre of the cake.
Place the 2nd cake on top of the first and repeat with an even layer of Ganache filling over the top.
Apply a crumb coat of buttercream frosting to the top and sides of the cake using an offset spatula. Do this by spreading a thin layer of buttercream frosting over the entire cake. This will help to contain the crumbs and keep them out of the top layer of frosting.
Once you have finished the crumb coat, ice the cake with the remaining buttercream frosting.
Finally, finish the cake by covering it in an even layer of chocolate sprinkles. To cover the sides, use your hands to gently press the sprinkles into the sides of the cake.