Double Apple Bundt Cake Recipe
Serve with fresh, coffee, tea or a tall glass of cold milk. Mmmmm
Special Offer
Get the Fat Burning Kitchen Book - FREE
Your 24 Hour Diet Transformation to Make Your Body a Fat-Burning Machine! Get your FREE copy here.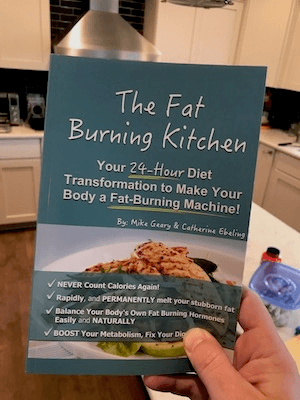 Ingredients
The Cake
2 cups all-purpose flour
2 teaspoons baking powder
1/2 teaspoon baking soda
1/2 teaspoon ground cinnamon
1/4 teaspoon freshly grated nutmeg
1/4 teaspoon ground ginger
1/4 teaspoon salt
10 tablespoons (1 1/4 sticks) unsalted butter, at room temperature
1 1/2 cups sugar
2 large eggs
1 cup store-boughtor homemade apple butter, spiced or plain
2 medium apples, peeled, cored and grated
1 cup pecans or walnuts, chopped
1/2 cup plump, moist raisins (dark or golden)
The Glaze
1/3 cup confectioners' sugar
about 2 tablespoons lemon juice, orange juice, milk or water
Directions
Position a rack to the center of the oven and preheat it oven to 350 degrees.
Butter a 12-cup nonstick Bundt pan, or if yours is not nonstick, butter and flour it, too.
Whisk together the flour, baking powder, baking soda, spices and salt. Set aside.
In the bowl of an electric mixer, cream together the butter and sugar on medium speed until light, fluffy and pale in color, about 3 minutes. Scrape down the bowl.
Beat in the eggs one at a time. Scrape down the bowl again.
Reduce the speed to low and mix in the apple butter–don't worry if the batter looks curdled at this point.
Mix in the grated apples. With the mixer still running on low speed, stir in the dry ingredients gradually.
When just a few streaks of flour remain, stir in the nuts and raisins.
Stop the mixer and give the batter a few folds by hand just to make sure everything's incorporated.
Scrape the batter into the prepared pan, and bake until a toothpick comes out clean inserted deeply into the center of the cake comes out clean, about 50 to 55 minutes.
Let cool on a wire rack for about 10-15 minutes before unmolding it onto the rack to cool completely.
To glaze the cake, stir together the confectioners' sugar and your liquid of choice, a tiny bit at a time, until the glaze falls easily off the end of a spoon.
Place the cake on a serving plate. Drizzle the cake generously with the glaze, letting it drip down the sides of the cake.
Alternatively, you can dust the cake with confectioners' sugar just before serving.
This cake keeps beautifully at room temperature for up to 4 days, or up to 2 months in the freezer.