Double Stacked Cheeseburger Recipe
A burger fit for a king.
Special Offer
Get the Fat Burning Kitchen Book - FREE
Your 24 Hour Diet Transformation to Make Your Body a Fat-Burning Machine! Get your FREE copy here.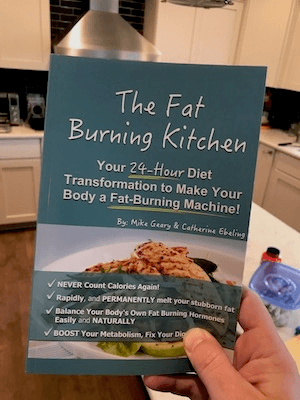 Ingredients
12 ounces ground beef
1/2 teaspoon rock salt
1/2 teaspoon black pepper
1 tablespoon steak sauce
2 ounces purple onions
2 ounces tomatoes
1 leaf lettuce
4 ounces cheddar cheese
1 large hamburger bun
Directions
Place 12 oz. of ground beef into medium bowl.
Sprinkle 1/2 teaspoon of rock salt and black pepper into bowl.
Pour 1 tablespoon of steak sauce in bowl.
Mix together and make (2) 6 oz. burger patties.
Cook to desired temperature.
Take slice of thick red onion and dip into seasoned flour (salt, pepper, seasoned salt).
Place red onion into 400 degree pan of hot vegetable oil. Cook to crust is golden brown.
Top (2) 6 oz. paties with 2 slices each of American or cheddar cheese, stack together.
Top double stacked with golden brown red onion.
Place double stacked cheeseburger with golden onions on toasted bun.