Double Threat Mini Muffins Recipe
An easy moist muffin recipe topped with two all time favorites: silky chocolate ganache and caramelized walnuts.
Special Offer
Get the Fat Burning Kitchen Book - FREE
Your 24 Hour Diet Transformation to Make Your Body a Fat-Burning Machine! Get your FREE copy here.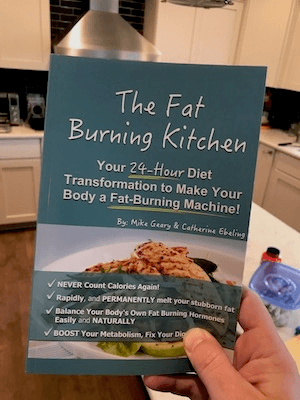 Ingredients
Makes: 12 mini muffins
1 cup all-purpose flour
1 teaspoon baking powder
1/2 teaspoon baking soda
1/4 teaspoon apple pie spice or ground cinnamon
1/8 teaspoon salt
3 tablespoons vegetable oil
2 tablespoons packed brown sugar
2 tablespoons apple juice
1 large egg
1 small Golden Delicious apple, peeled, cored and diced
Ganache
1.5 cups (12 ounces) chocolate, chopped into small pieces
1 cup heavy cream
12 walnuts
1/2 cup sugar
Directions
Place chocolate pieces in a large bowl.
Heat heavy cream on medium high until it comes to a boil.
Remove from heat and immediately pour cream over chocolate and stir until completely mixed and glossy.
For piping or frosting, allow the ganache to completely cool and set up. When you are able to spoon the ganache and it can hold its texture, it is ready for piping.
Preheat the oven to 400F.
Line 12 mini muffin cups with paper liners.
In a large bowl, whisk together flour, baking powder, baking soda, spice and salt. In another bowl, whisk together oil, sugar, juice and egg.
Add oil mixture to the flour mixture, stirring just until combined, then stir in the apple.
Divide the batter among the muffin cups.
Bake until a toothpick inserted into the center of a muffin comes out clean, about 15 minutes.
In the meanwhile, prepare your caramelized walnuts.
In a small skillet, melt sugar over medium-high heat until medium golden, about 3 minutes.
Remove skillet from heat. and drop walnuts into melted sugar.
Use a fork to turn and coat walnuts in sugar. Set aside for decorating.
Allow to cool slightly in pan before removing muffins to cooling rack.
Using a piping gun, top with a decorative bud of chocolate ganache and a caramelized walnut.