German Chocolate Cake Recipe
Chocolate layered cake with chocolate cream filler and a caramel frosting recipe
Special Offer
Get the Fat Burning Kitchen Book - FREE
Your 24 Hour Diet Transformation to Make Your Body a Fat-Burning Machine! Get your FREE copy here.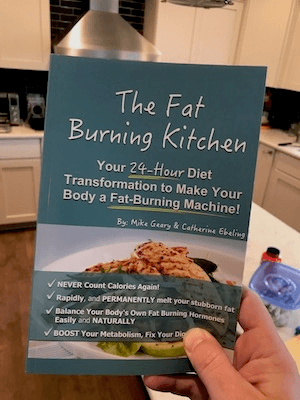 Ingredients
Cake
4 ounces bakers chocolate (for this recipe we Bakers German Sweet Chocolate but you can use any good bakers chocolate)
1/2 cup water
2 cups cake flour
1 teaspoon baking soda
1/2 teaspoon salt
1/2 pound unsalted butter, room temperature
1 teaspoon pure vanilla extract
1 1/2 cups granulated sugar
1/2 cup brown sugar
4 eggs, separated
1 cup buttermilk
Caramel Frosting
1/2 cup butter
1 cup brown sugar
1/4 cup milk
2 cups powdered sugar
Chocolate Filling
2 squares (2oz) unsweetened chocolate
1/2 cup butter
1/3 cup light cream
1 tsp vanilla
Chocolate Drizzle
1/3 cup semisweet chocolate chips
1 tablespoon milk
1 tablespoon corn syrup
Directions
Cake
1. Preheat the oven to 350 degrees F.
2. Grease and flour 2 (9 inch) cake pans
3. In a microwave safe bowl, add the chocolate and water and heat in a microwave or over a double boiler until melted.
4. Stir until smooth and set aside. In a separate bowl, sift together the cake flour, baking soda and salt. Set aside.
5. In the bowl of a stand mixer, cream together the butter, vanilla extract, granulated sugar and brown sugar until light and fluffy. Scrape down the sides of the bowl.
6. Add egg yolks 1 at a time, beating well after each addition. Blend in the melted chocolate. Add the flour mixture and buttermilk, alternating, until just combined.
7. Add the egg whites to a small bowl and beat with an egg beater until stiff peaks form. Gently fold the whites into the batter until well incorporated.
8. Pour the batter evenly into 2 (9-inch) cake pans
9. Bake until a toothpick inserted into the center of the cake comes out clean, about 30 minutes.
9. Remove from the oven to a cooling rack and allow to cool completely before filling and frosting.

Caramel Frosting
1. Melt butter in a pan.
2. Add brown sugar and boil for two minutes, stirring constantly.
3. Add milk and stir until mixture boils, remove and cool.
4. Pour into mixing bowl and add powdered sugar a little bit at a time.
5. Beat well after each addition of powdered sugar.
Chocolate Filling
1. In top of double boiler over hot, not boiling, water, melt chocolate; remove from heat and let cool.
2. Beat butter until fluffy. Gradually beat in sugar, alternating with cream, and continue beating until sugar is dissolved. Beat in vanilla, then cooled chocolate. (Filling should be of good spreading consistency. If too thin, beat in more sugar; if too thick, beat in more cream.)
Chocolate Drizzle
1. Combine the chocolate chips, milk and corn syrup in a microwave-safe cup and microwave until the chips soften, stir until smooth, Or, do in a small saucepan on the stovetop.While still hot, drizzle on the frosted cake.
To Assemble the German Chocolate Cake
1. On a cake dish, put the first cake layer and top generously with the chocolate filling.
2. Put the second layer of cake onto the filled layer.
3. Cover the filling with another cake layer of and spread with the caramel frosting around the entire surface of the cake. Drizzle the chocolate on.