Napoleon Cake Recipe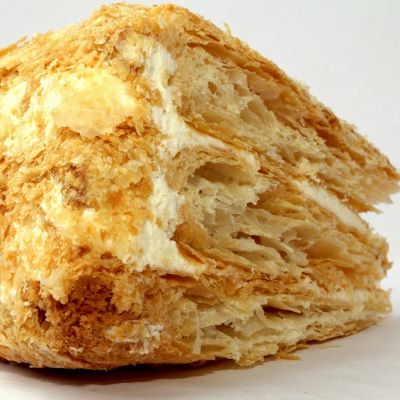 Light and flaky Napoleon Cake with creamy filling.
Ingredients
1 egg
7 egg yolks
3/4 cup sugar
1 1/2 cups almonds, grated
8 tablespoons bittersweet chocolate, grated
1 teaspooncandied orange peel or 1 teaspoon orange rind
2 tablespoons cake crumbs ( or fine bread crumbs)
7 egg whites, stiffly beaten
FOR THE FILLING
1 cup heavy cream
2 1/2 tablespoons sugar
FOR THE CHOCOLATE ICING
1 cup sugar
1/2 cup water
4 1/2 ounces unsweetened chocolate
1 tablespoon butter
Directions
FOR THE CAKE: Beat egg, egg yolks, and sugar until creamy.
Add almonds, chocolate, orange peel, and cake crumbs; continue beating.
Fold in gently stiffly beaten egg whites. Bake in two greased and floured 8 or 9 inch cake tins in 300 degrees F. oven for 20 to 25 minutes or until toothpick inserted in center comes clean.
When cool split each cake into 2 layers.
Spread cream, whipped and sugared, between layers.
Pour chocolate icing over top layer.
FOR THE ICING: Cook sugar with water until it spins a heavy thread.
Melt chocolate in double boiler; add butter.
Add hot syrup gradually, stirring constantly until smooth and until mixture coats spoon.