New York White Chocolate Cheesecake Recipe
Perfect for a special occasion, a recipe for New York White Chocolate Cheesecake
Special Offer
Get the Fat Burning Kitchen Book - FREE
Your 24 Hour Diet Transformation to Make Your Body a Fat-Burning Machine! Get your FREE copy here.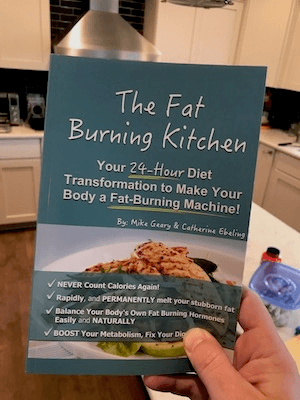 Ingredients
Crust
(9-oz.) pkg. chocolate wafer cookies, crushed (2 1/4 cups)
6 tablespoons butter, melted
Filling
2 (8-oz.) pkg. cream cheese, softened to room temperature
1/2 cup sugar
3 eggs
1 (12-oz.) pkg. (2 cups) white vanilla chips, melted
1 cup whipping cream
1 teaspoon vanilla
Chocolate Sauce
1/3 cup semisweet chocolate chips
1 tablespoon butter
1/4 cup boiling water
3/4 cup sugar
3 tablespoons corn syrup
*Optional 1/2 cup mini chocolate chips - NOT melted
Directions
Place 12-inch square sheet of foil on rack below center oven rack in oven.
Preheat oven to 325degrees F.
In medium bowl, combine crust ingredients; mix well and press in bottom and about 1 inch up sides of ungreased 10-inch springform pan. Refrigerate while preparing filling.
To melt white vanilla chips, place 1 cup or 6 oz. at a time in medium microwave-safe bowl. Microwave on MEDIUM for 3 to 4 minutes or until melted, stirring once halfway through cooking. Stir until smooth. OR Melt on the stovetop in a saucepan over medium heat.
Beat cream cheese in large bowl with electric mixer at medium speed until smooth. Gradually add 1/2 cup sugar, beating until smooth. Add eggs, 1 at a time, beating well after each addition. Quickly add melted chips, whipping cream and vanilla; beat until smooth. Pour into crust-lined pan.
Bake for 55 to 65 minutes or until edges are set; center of cheesecake will be soft. Turn oven off; open oven door at least 4 inches. Let cheesecake sit in oven for 30 minutes or until center is set.
Remove cheesecake from oven. Cool in pan on wire rack for 1 hour or until completely cooled. Carefully remove sides of pan. Refrigerate at least 4 hours or overnight.
Chocolate Sauce.
In a small heavy saucepan, combine chocolate chips, 1 tablespoon butter and boiling water. Let stand 5 minutes. Whisk chocolate mixture until smooth. Add 3/4 cup sugar and corn syrup; mix well.
Bring to a boil over medium-low heat, stirring constantly. Reduce heat to low; boil 8 minutes without stirring.
Remove saucepan from heat. Stir 1/2 teaspoon vanilla into chocolate sauce. Cool 15 minutes, stirring frequently. Sauce will thicken as it cools. If adding the mini chocolate chips to the sauce, stir them in once the sauce is completely cooled.
Serve cheesecake with sauce. Store cheesecake and sauce in refrigerator.