Orange Ricotta Cheesecake With Almond Nut Crust And Amaretto Drizzle Recipe
Recipe for Orange Ricotta Cheesecake With Almond Nut Crust and Amaretto Brown Sugar Drizzle
Special Offer
Get the Fat Burning Kitchen Book - FREE
Your 24 Hour Diet Transformation to Make Your Body a Fat-Burning Machine! Get your FREE copy here.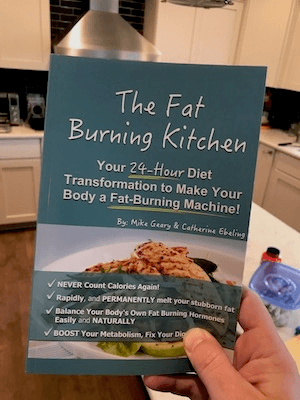 Ingredients
Nutty Crust
1/4 cup unsalted butter cut into cubes
1/4 cup sugar
1 cup of finely ground almonds
1/2 cup all purpose flour
1 Tablespoon Amaretto * or use 1 teaspoon almond or rum flavoring
Orange Ricotta Cheesecake
3 eggs
2/3 cup sugar
1 tablespoon grated orange zest
3 cups ricotta cheese
3 tablespoons orange juice
Pinch of salt
Amaretto Brown Sugar Drizzle
1 cup packed brown sugar
1 1/2 tablespoon cornstarch
1/4 teaspoon salt
1 cup water
2 tablespoon butter
1 tablespoon amaretto *or use 1 teaspoon almond or rum flavoring
Directions
The Nutty Crust
Cream the butter and sugar until smooth.
Add the nuts and flour - mix well. Add amaretto and mix until the dough forms a ball. Divide and press the dough evenly into a spring form 9 inch pan.
Make the crust just a little over 1/4" thick.
Allow the dough to rest in the freezer for 30 minutes, or in the refrigerator for 1 hour.
Preheat the oven to 350 degrees F. Put the tart shell on a cookie sheet and bake for 20-25 minutes, or until golden.
Cool for about 5 minutes then carefully remove the tin and cool the shell completely on the rack before adding the filling
Filling
In a mixing bowl using a hand or stand up electric mixer, beat the eggs and sugar until thick and pale yellow, for about 2 minutes. Add the orange zest, ricotta, orange juice, and salt.
Beat until the mixture is well blended, about 1 minute. Set aside.
Amaretto Brown Sugar Drizzle
in a medium saucepan, whisk brown sugar, cornstarch and salt. Whisk in water and bring to a boil over high heat. Lower heat to medium, whisking constantly until sauce is smooth and has thickened slightly, 4-6 minutes. Remove from heat and whisk in butter and Amaretto.
Assembly
Preheat over to 350 degrees F.
Pour the filling into the cooled crust, smoothing the top.
Bake for 35 to 45 minutes, or until the top is set and very slightly starting to brown. Remove from the oven and place on a wire rack to cool for about 1 hour.
Gently open the spring form, using a sharp knife to separate the crust from the pan if necessary. Let cool completely.
Drizzle on the Amaretto brown sugar drizzle. Can be served at room temperature or refrigerated and served chilled.