Oreo Brownies Recipe
Oreo cookies and brownie...a very tasty combination!
Special Offer
Get the Fat Burning Kitchen Book - FREE
Your 24 Hour Diet Transformation to Make Your Body a Fat-Burning Machine! Get your FREE copy here.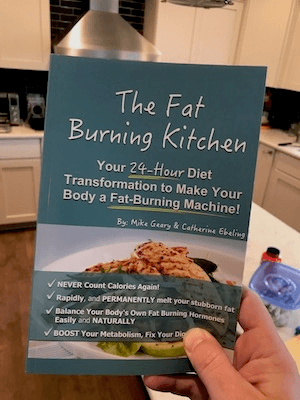 Ingredients
3/4 cup (165g) butter, plus extra for greasing
7 oz (200g) dark chocolate, grated or finely chopped
3 eggs, whole
2 egg yolks
1 vanilla pod, seeds only (or alternatively 2 tsp vanilla extract)
3/4 cup soft light brown sugar
2 tbsp plain flour
1 tbsp cocoa powder
pinch salt
154g chocolate biscuits, such as Oreos, broken into quarters
icing sugar, for dusting (optional)
Directions
Preheat the oven to 350F. Grease a 9 x 9 inch square baking tin with butter, then line with baking paper with the paper overlapping the sides a little
In the top of a double boiler, melt the butter and chopped chocolate.
Whisk the eggs, egg yolks and vanilla together in a large bowl until the eggs begin to get light and fluffy.
Add the sugar in two additions, whisking between each.
Keep whisking until the mixture becomes stiffer. Once the egg mixture is ready, pour the chocolate into it.
Add the flour, cocoa powder, salt and a third of the biscuits and stir until fully combined, then pour the mixture into the prepared tin.
Scatter the remaining biscuits over the top, pressing them in slightly
Bake on the middle shelf of the oven for 25–30 minutes. The middle should be very so slightly gooey. Leave the brownies to cool in the tin – the top will sink and crack a little
Pull the brownies out using the overlapping paper and cut into squares. Dust with icing sugar