Pasta Carbonara Recipe
This pasta caronara is so quick to make and has wonderful flavor.
Special Offer
Get the Fat Burning Kitchen Book - FREE
Your 24 Hour Diet Transformation to Make Your Body a Fat-Burning Machine! Get your FREE copy here.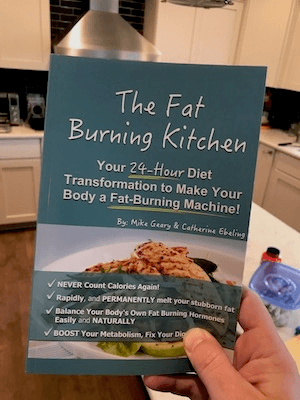 Ingredients
1 fettucini
3 eggs
1/2 cup grated parmesan cheese or 1/2 cup romano cheese
1/2 lb pancetta
1/2 teaspoon fresh ground pepper
4 Tablespoons butter, melted
Directions
Cook the fettucini. Using a deep pot, bring water to a boil. Add the pasta and cook for about 8-10 minutes, al-dente. While the pasta is cooking.
In large bowl stir the eggs with the cheese and grind in the fresh pepper.
In a frying pan, cut the pancetta into pieces and cook til browned.
Melt the butter either in a small pot on the stovetop or in the microwave.
Drain the pasta and pour into egg mixture. The heat from the pasta will cook the sauce. Stir to fully cover the pasta and distribute the egg sauce.
Add the pancetta and melted butter and mix.
Serve with more freshly grated pepper and salt to taste.
Garnish with fresh basil if desired.