Peanut Butter Chocolate Cupcakes Recipe
A moist recipe for Peanut Butter Chocolate Cupcakes with chocolate and peanut butter icings, garnished with a mini peanut butter cup.
Special Offer
Get the Fat Burning Kitchen Book - FREE
Your 24 Hour Diet Transformation to Make Your Body a Fat-Burning Machine! Get your FREE copy here.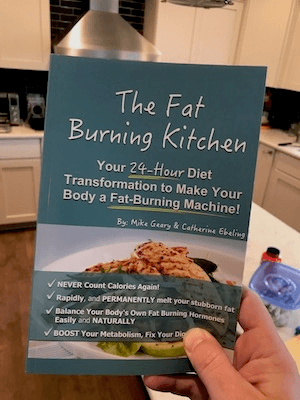 Ingredients
Cupcakes
1 1/4 cup all-purpose flour 1 teaspoon baking powder
3 tablespoons cocoa powder
1/4 teaspoon salt
2/3 cup creamy peanut butter
8 Tablespoons (1 stick) unsalted butter, softened to room temperature
3/4 cup dark brown sugar
2 large eggs
1 teaspoon vanilla extract
3 Tablespoons milk
Dark Chocolate Frosting
2 and 3/4 cup powdered sugar
2/3 cup unsweetened cocoa powder, like Hersheys Special Dark
6 Tablespoons unsalted butter, softened to room temperature
6 Tablespoons heavy cream
1 teaspoon vanilla extract
Optional: 12 to 14 miniature chocolate peanut butter cups, unwrapped
Peanut Butter Frosting
1/4 cup butter at room temperature
1/2 cup creamy peanut butter
1 cup confectioners sugar
1/2 teaspoon vanilla extract
2.5 tablespoons heavy cream or milk
Directions
Cupcakes
Preheat oven to 350F degrees. Line 12-cup muffin tin with liners. Set aside.
Mix together the flour, baking powder, and salt. Set aside.
With a handheld or stand mixer, cream together the peanut butter, butter, and brown sugar until light and fluffy; about 2 minutes on medium speed.
Beat in the eggs, one at a time, then add in vanilla. Scrape down the sides as needed. Slowly beat in the flour mixture alternately with the milk, mixing until just combined. Do not overmix.
Divide batter evenly between 12 cupcake tins. Bake for 23-25 minutes or until toothpick inserted in the middle of a cupcake comes out clean. Allow cupcakes to cool before frosting.
Chocolate Frosting
Sift together the powdered sugar and cocoa powder to assure there are no lumps. Set aside.
With a handheld of stand mixer, beat the butter at medium speed until fluffy - about 2 minutes.
Gradually add the sifted sugar/cocoa powder alternately with the heavy cream and vanilla. Beat on low speed after each addition. Add more powdered sugar if frosting is too dark. Add a pinch of salt if frosting is too sweet.
Peanut Butter Frosting
In a medium sized mixing bowl, cream together the butter and peanut butter until smooth.
Gradually add the vanilla and powdered sugar. Add the cream one tablespoon at a time until it reaches the desired consistancy. Beat 3 minutes until nice and light and fluffy.
Put the frosting into a small plastic bag and cut a small tip off the corner. This will become you piping bag.
Assembly
When the cupcakes are cooled, pipe the chocolate frosting on top. Garnish with a mini peanut butter cup.
Drizzle the peanut butter icing on top.