Pumpkin Gnocchi Recipe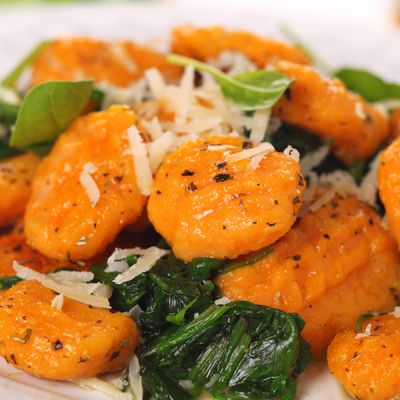 Gnocchi recipes are typically made with potato, but this one uses pumpkin and is oh so creamy and delicious.
Ingredients
1/2 cup skim milk ricotta
1/2 cup canned pumpkin
1/2 cup freshly grated parmegiano reggiano
1 large egg yolk
1 teaspoon lemon zest
1 teaspoon coarse salt
1 cup all purpose flour, sifted plus more for dusting
3 tablespoons butter, divided
2 tablespoon olive oil, divided
2 cups fresh spinach
shaved parmegiano reggiano for serving
Directions
Preheat oven to 300F
Combine ricotta, pumpkin parmagiano, yolk, zest and salt in large bowl. Mix well.
Sprinkle half of the flour on the mixture, gently turn with spatula a few times to incorporate. Dump mixture on clean, lightly floured countertop or you can still do this in the bowl.
Sprinkle remaining flour on top of the mixture.
For 1-2 minutes, gently knead with your fingertips, just bringing together the mixture until flour is incorporated through.
Sprinkle some flour onto a clean dry surface.
Divide dough into 4 parts.
Take one part and roll into a long, 1″ diameter log.
Cut gnocchi into 1″ pieces.
At this point you have 2 choices.
Boiled Gnocchi (seen in image): boil a pot of water and toss gnocchi into pot until they float to surface and they are done. * You will need to do about 3 batches so you do not crowd the pot.
Fried (very decadent and delicious): Heat a large frying pan or saute pan 1 tbsp of the butter and 1 tbsp of olive oil.
When hot, add some gnocchi, but do not crowd the pan. You will have to do it in batches.
Fry on medium heat for 1-2 minutes, turn and fry for another 1-2 minutes.
Remove gnocchi, place on large baking sheet to put into oven to keep warm.
Repeat with rest of gnocchi.
When all gnocchi is finished (boiled or fried), discard butter/oil in pan and clean pan with paper towel.
To finish meal, heat pan on medium heat and when hot, add the remaining 2 tablespoons butter and the remaining tablespoon of olive oil.
When hot, add the fresh spinach and cooked until softened.
When spinach is cooked toss it into your bowl of gnocchi.
Serve with shaved parmegiano reggiano.