Pumpkin Pecan Cream Cheese Roll Recipe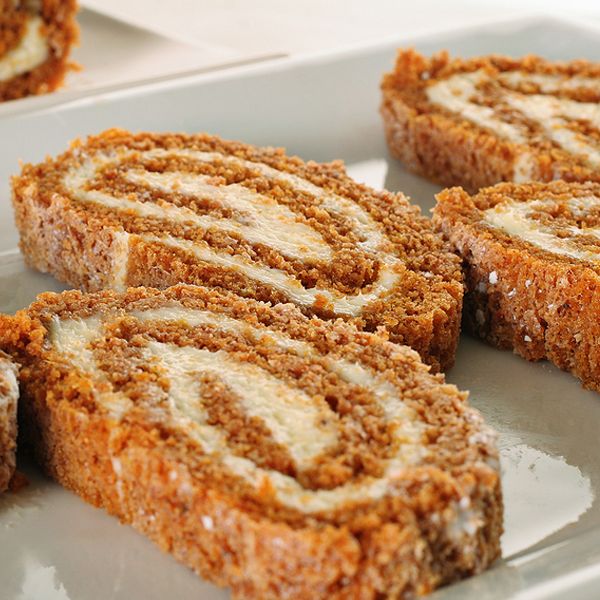 A tasty pumpkin pecan roll that is as good to eat as it is to look at.
Ingredients
3 eggs
1 cup white sugar
2/3 cup pumpkin puree
1 teaspoon lemon juice
3/4 cup all purpose flour
1 teaspoon baking powder
1/2 teaspoon salt
2 teaspoons cinnamon
1 teaspoon ground ginger
1 cup finely chopped roasted pecans
confectioners' sugar for dusting
1 (8 ounce) package cream cheese
4 tablespoons butter
1 cup confections' sugar
1 teaspoon maple extract
confectioners' sugar for dusting
Directions
Prepare your pan:
Lay heavy duty tinfoil in a 10 x 15 inch pan.
Line with parchment paper and grease the parchment paper.
Tip: In order to be able to easily roll the pumpkin cake, be sure the pecans are finely chopped so that the pieces are nice and small and 'roll-able'
The Cake -
Preheat Oven to 350 degrees F
In a large bowl, beat the eggs and sugar with an electric mixer on high speed for five minutes.
Gradually mix in pumpkin and lemon juice.
Combine the flour, baking powder, salt, cinnamon, and ginger; stir into the pumpkin mixture.
Spread batter evenly into the prepared pan.
Bake for 12 to 15 minutes, at 350 degrees F or until the center springs back when touched.
Remove from the oven.
Dust the cake with confectioners' sugar. Roll up cake in the parchment lined heavy duty aluminum foil, and let cool for about 20 minutes.
Unroll the cake and spread on cream cheese filling.
Filling:
In a medium bowl, combine cream cheese, butter, 1 cup confectioners' sugar, and vanilla. Beat until smooth. Hand stir in the chopped nuts until combined.
Now, place pumpkin roll on a long sheet of waxed paper, and dust it with confectioners' sugar.
Wrap the roll up in the waxed paper, and twist ends of waxed paper like a candy wrapper. Refrigerate overnight.
Serve chilled; before slicing, dust with additional confectioners' sugar.