Rainbow Layer Cake Recipe
Make a rainbow layer cake for that very special event coming up. You can use any colors you wish in your layer cake. Great with ice cream.
Special Offer
Get the Fat Burning Kitchen Book - FREE
Your 24 Hour Diet Transformation to Make Your Body a Fat-Burning Machine! Get your FREE copy here.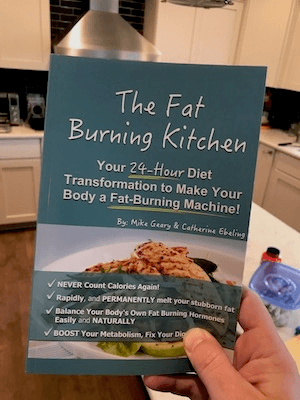 Ingredients
Cake
8 ounces white baking chocolate, chopped
2 1/4 cups all purpose flour
2 1/4 teaspoons baking powder
1/4 teaspoon salt
10 Tablespoons butter, at room temperature
1 1/3 cups granulated sugar
4 eggs
1 1/2 teaspoons vanilla
1 1/4 cups milk
Food colorings (yellow,light green, red, dark green, orange)
Creamy Butter Frosting
2/3 cup butter
1/2 teaspoon salt
1 teaspoon vanilla extract
7 cups confectioners sugar, sifted
4 to 8 tablespoons milk or light cream, or enough to make smooth and spreadable
Directions
Cake
Preheat oven to 350 degrees F.
Grease the bottoms of five 8-inch round cake pans.
Line bottoms of pans with parchment paper, grease and lightly flour pans. Set aside.
If you do not have five cake pans, then you will need to bake the cake layers in batches.
In a medium saucepan, cook and stir the 8 ounces white chocolate over low heat until melted.
In a medium sized mixing bowl, combine flour, baking powder, and salt, set aside.
In a large mixing bowl, beat the butter with an electric mixer on medium to high speed for 30 seconds. Gradually add the granulated sugar, beating until combined.
Add eggs one at a time, beating after each addition. Beat in the 1 1/2 teaspoons vanilla.
Alternately add flour mixture and milk to butter mixture, beating on low speed after each addition just until combined.
Beat in melted white chocolate just until combined. Once the cake batter is mixed, divide the batter into 5 bowls.
Add food coloring to each bowl of batter. We used yellow, light green, red, dark green and orange for this cake, but you can use any colors you would like.
Spread batter in the prepared cake pans.
Bake about 20 minutes or until a toothpick inserted in the centers comes out clean.
Cool cake layers in pans on wire racks for 10 minutes.
Remove layers from pans. Peel off parchment paper. Cool completely on wire racks.
*Note If you are cooking in batches, just wash your cake pans, reline with parchment paper, grease and sprinkle flour, then proceed with next batch of cakes.
Frosting
Cream butter, salt, and vanilla, beating with an electric mixer until light and fluffy. Add the confectioners sugar gradually, beating after each addition.
Add 3 tablespoons milk or light cream, beating until smooth. Beat in more milk until desired spreading consistency is reached and the frosting is spreadable.
Makes about 4 2/3 cups of frosting, enough to frost tops and sides of the Four - 8 inch layer cakes.
Assembly
Use about 3/4 cup of frosting in between layers.
To assemble, put one layer (top up) on cake plate. Spread about 3/4 cup of the frosting on top.
Place another layer on top (bottom side up), spread 3/4 cup of frosting on top.
Place the third layer and spread 3/4 cup of frosting.
Place the fourth layer and 3/4 cup frosting.
Place final layer of cake and frost the entire cake sides and top.
It is easiest to spread a thin layer on cake first, then frost again, using a spatula to spread on the remainder of the frosting.
Add garnish if you like.