Raspberry Swirl Cheesecake White Chocolate Bites Recipe
So yummy. a delicious bite of Raspberry Swirl Cheesecake with White Chocolate
Special Offer
Get the Fat Burning Kitchen Book - FREE
Your 24 Hour Diet Transformation to Make Your Body a Fat-Burning Machine! Get your FREE copy here.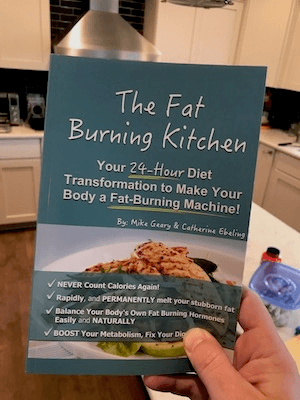 Ingredients
Crust
1 1/2 cups graham wafer crumbs
6 Tablespoons butter, melted
Cheesecake
2 packages (8 ounces each) cream cheese, at room temperature
1/2 cup granulated sugar
2 eggs
2 Tablespoons all purpose flour
1/2 teaspoon almond extract
1/3 cup seedless red raspberry jam
Garnish
1 cup white chocolate, cut into little chunks
Directions
Crust
Preheat oven to 325˚F.
Line an 8 inch square pan with foil. Leave a 1 inch of foil overhang at 2 opposite sides of pan; grease the foil.
Cheesecake and Garnish
In medium bowl, mix the graham wafer crumbs and butter. Press into the prepared pan. Bake 12 minutes. Cool 15 minutes.
Meanwhile, in another medium bowl, using an electric mixer, beat cream cheese and sugar on medium speed until smooth.
Add the eggs, one at a time, beating just until blended. Beat in flour and almond extract. Pour over cooled crust.
Drop the jam by teaspoonfuls over batter; swirl jam through batter with a knife to create the design. Donít cut in too deep.
Bake 30 to 40 minutes or until set. Remove from the oven and while it is still hot, sprinkle the little white chocolate chunks onto the top of the cheesecake. If they donít seem to be melting put back into the oven for a couple of minutes.
Cool completely on cooling rack, about 1 hour. Use foil to lift out of pan. Cut into squares and keep chilled in the refrigerator.