Simple Elegant Caramel Cheesecake Recipe
A recipe for a simple and elegant Caramel Cheesecake
Special Offer
Get the Fat Burning Kitchen Book - FREE
Your 24 Hour Diet Transformation to Make Your Body a Fat-Burning Machine! Get your FREE copy here.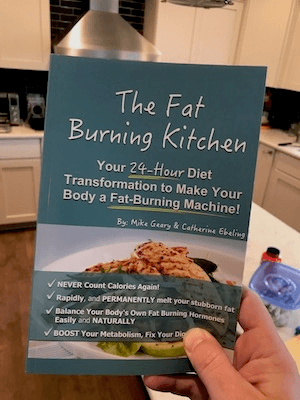 Ingredients
Crust
1/2 cup graham cracker crumbs
1/2 cup ground pecans
* Note you can use 1 cup graham cracker crumbs and no pecans if you wish
1/4 cup margarine
2 tablespoons granulated sugar
Filling
24 ounces cream cheese, softened
2 tablespoons flour
1 teaspoon vanilla extract
3/4 cup granulated sugar
3 eggs
1/2 cup caramel ice cream topping
Topping
1 tablespoon brown sugar, packed
1 1/2 teaspoons margarine
1 1/2 tablespoons water
2 tablespoons caramel ice cream topping
Directions
Crust
Combine all crust ingredients and press into 9-inch springform pan.
Bake 10 minutes at 325 degrees F and remove from oven.
Turn oven to 450 degrees F.
Filling
Combine softened cream cheese, sugar, flour and vanilla extract, mixing at medium speed until well-blended.
Add eggs one at a time, mixing well after each. Reserve 1 cup of cheese batter; stir 1/2 cup of caramel topping into this reserved cup of batter.
Spoon half of plain batter over crust; cover with the caramel batter, spread remaining plain batter over the caramel layer.
Bake 7 minutes at 450 degrees F, then reduce temperature to 250 degrees F and bake 40 to 45 minutes more.
Remove from oven and loosen cake from rim, but do not remove rim until cool.
Topping
In saucepan, melt brown sugar and margarine; add water and bring to boil abd cook 2 minutes, stir in the 2 tablespoons of caramel ice cream topping.
Before serving, drizzle caramel over the cake.