Watermelon And Feta Salad With Cucumber And Mint Recipe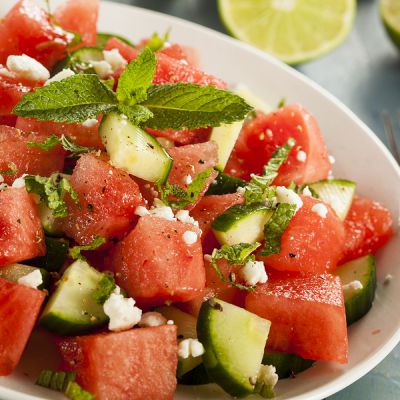 This watermelon, feta salad with cucumber and mint is so light and refreshing and is drizzled with fresh lime juice and olive oil. Fantastic!
Special Offer
Get the Fat Burning Kitchen Book - FREE
Your 24 Hour Diet Transformation to Make Your Body a Fat-Burning Machine! Get your FREE copy here.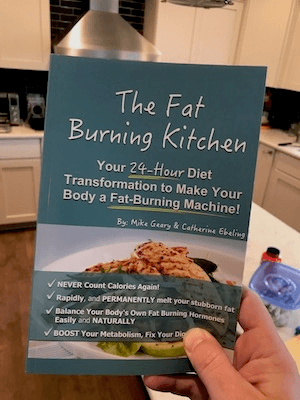 Ingredients
(Makes 1-2 servings, depending how big you like your salad)
1/4 seedless watermelon, diced into bite-sized chunks
1/2 cucumber
2 oz. feta cheese, crumbled
1 lime
1 Tablespoon olive oil
4-5 fresh mint leaves, chiffonade
salt and fresh ground pepper, to taste
Directions
Cut the watermelon into bite size chunks and place into medium size salad bowl.
Slice the cucumber down the middle lenghtwise, then cut each length in half so you have the cucumber quartered. Cut the quarters into slices about 1/2 inch wide. Add the cucumber to the melon and mix gently.
Sprinkle the feta cheese and gently mix in.
Squeeze the juice from the lime.
Add the lime juice and olive oil to the salad, along with the chiffonade mint leaves and gently stir to combine.
Transfer to a serving dish (or two, if splitting in half).
Season lightly with salt and freshly ground pepper and garnish with fresh mint leaves.