White Chocolate Cake Recipe
The delicious white chocolate cake recipe has makes a tasty dense white cake with a creamy white chocolate cream cheese frosting.
Special Offer
Get the Fat Burning Kitchen Book - FREE
Your 24 Hour Diet Transformation to Make Your Body a Fat-Burning Machine! Get your FREE copy here.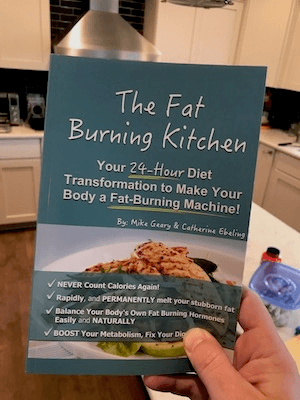 Ingredients
Cake
1 1/2 cups unsalted butter
3/4 cup water
1 cup white chocolate chips
1 1/2 cups buttermilk
4 large eggs
1 1/2 teaspoons vanilla extract
3 1/2 cups all-purpose flour
2 1/4 cups granulated sugar
1 1/2 teaspoons baking soda
White Chocolate Frosting
1 cup white chocolate chips
1 1/2 cups cream cheese, softened
1/3 cup butter, at room temperature
1 1/2 cups confectioners sugar
1 1/2 teaspoons vanilla extract
Serves 6 - 8
Directions
Cake
Preheat oven to 350F.
Grease and flour 3 - 9 inch round cake pans with butter.
In a medium sized pot melt butter, add water and bring to boil. Once boiling add white chocolate and mix till smooth. Add in buttermilk, eggs and vanilla. Mix till well incorporated. Set aside to cool.
In a separate bowl whisk together flour, sugar, and baking soda. Add this to white chocolate mixture and mix till well combined.
Pour into prepared cake pans and bake for 20 to 25 minutes, or until an inserted toothpick comes out clean. Set to cool, once cool enough to touch turn cake out of pans and let cool completely on a wire rack.
White Chocolate Frosting
Melt white chocolate in a double boiler, or in a pot filed with water and a bowl. Set to cool.
Beat cream cheese and butter until smooth. Slowly add melted chocolate to cream cheese and beat in till well combined. Add sugar and vanilla, and beat for about 10 minutes until well combined.
Assembly
Spread frosting in between layers, on top, and on sides.
Garnish with white chocolate. Serve