Chocolate Cake With Custard Filling Recipe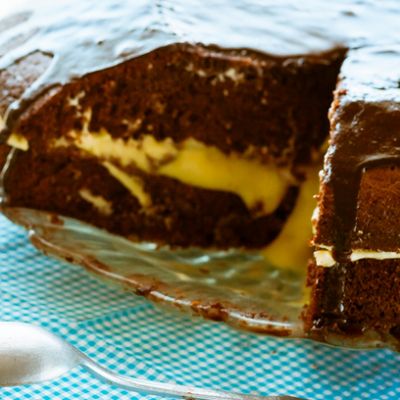 This chocolate cake recipe has a creamy custard filling and is covered in a delicious chocolate frosting. Its a bit of work to assemble, but a great cake for those that love chocolate and custards.
Ingredients
Chocolate Cake
2 cups granulated sugar
1 3/4 cups cake flour
3/4 cup cocoa powder
1 1/2 teaspoons baking powder
1 1/2 teaspoons baking soda
1 teaspoon salt
2 eggs
1 cup milk
1/2 cup grape seed oil
2 teaspoons pure vanilla extract
1 cup water, boiling
Custard Filling
1 cup milk
1 cup cream
4 large egg yolks
2 Tablespoon cornstarch
1/2 cup granulated sugar
2 teaspoons pure vanilla extract
Frosting
1/2 cup butter
2/3 cup cocoa
3 cups confectioner's sugar
1/3 cup milk
1 teaspoon pure vanilla extract
Serves 6 - 8
Directions
Chocolate Cake
Preheat oven to 350 degrees F.
Grease and flour 2 - 9 inch round cake pans with butter.
Whisk together sugar, flour, cocoa powder, baking powder, baking soda and salt. Add in eggs, milk, oil and vanilla, mix until well incorporated. Mix in boiling water until its combined.
Pour batter into prepared cake pans and bake for 30 - 35 minutes, or until an inserted toothpick comes out clean. Set to cool, once cool enough to touch turn cakes out of pans and let cool completely on a wire rack.
Custard Filling
In a medium sized pot heat milk and cream until it just comes to a boil.
In a separate bowl whisk together egg yolks, cornstarch and sugar. While whisking pour a bit of hot milk to egg yolks.
Return the rest of milk to stove on low heat, and while whisking hot milk add egg yolk mixture.
It is important to continually whisk mixture until it has thickened, and will coat the back of a spoon. Remove from heat and pour into a heat resistant bowl cover and refrigerate until it is chilled.
Frosting
In a small pot melt butter on low heat. Once melted add in cocoa and mix till smooth. Add in sugar, milk and vanilla and mix till its well incorporated.
Assembly
Spread chilled custard between layers of cake. Pour frosting on top of cake and serve.