Layered Cheesy Potatoes Recipe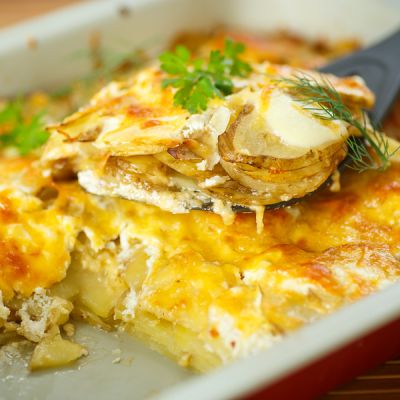 This layered cheesy potato casserole delivers bite after bite of delightful flavors.
Ingredients
1 quart milk
2 garlic, minced
salt and pepper to taste
freshly grated nutmeg to taste
8 medium potatoes
1 cup ricotta
1/2 cup parmesan
1 cup grated cheddar
1 pints heavy cream
Directions
Pour the milk into a large saucepan, season with minced garlic, salt, pepper and nutmeg. Bring to a boil, then turn down to simmer for 5 minutes.
Preheat oven to 450°F.
Scrub the potatoes and leave the skin on. (or you can peel if you like) then slice thinly.
Place potato slices in hot simmering milk, and cook very gently for 10 minutes or so, or just until the potatoes begin to soften. Drain the potatoes in a colander (reserve milk for another use, if desired).
Butter a 9x13 baking dish.
Arrange a layer of half the potato slices in the baking dish, and season lightly with salt,pepper and a sprinkle of nutmeg.
Cover with half the cheeses, spreading evenly out.
Arrange another layer with the remaining potato slices, spread the remaining cheeses on top.
Cover the dish loosely with aluminum foil.
Place in the oven, and cook for about 45 minutes, or until the cream has cooked away. Remove the foil and place the dish briefly under the broiler until it's brown and bubbly. Serve immediately.