Layered White Cake Recipe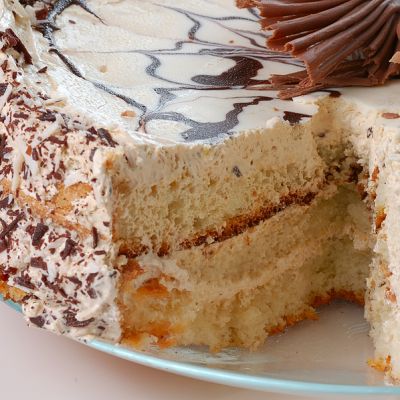 This layered white cake recipe makes a moist cake that is covered ina whipped cream frosting,garnished with chocolate ganache swirls and chocolate shavings.
Ingredients
Cake
1 cup whole milk
4 large egg whites, at room temperature
2 1/4 teaspoons pure vanilla extract
3 cups sifted cake flour
1 1/2 cups granulated sugar
4 teaspoons baking powder
3/4 teaspoon salt
1 1/2 sticks butter, cut into tablespoons, at room temperature
3/4 cup heavy cream
Whipped Cream Frosting
2 cups heavy cream
1/2 cup sifted confectioners' sugar
1 teaspoon pure vanilla extract
Chocolate Ganache
1 cup dark chocolate chips
1 cup heavy cream
Chocolate shavings
2 ounce block of dark chocolate
Directions
Cake
Preheat the oven to 350 degrees F. .
Butter three 8-inch cake pans; line the bottoms with parchment paper. Butter the parchment and flour the pans, tapping out the excess.
In a bowl, mix 1/4 cup of the milk with the egg whites and vanilla extract.
In the bowl of a standing mixer fitted with the paddle, mix the flour with the sugar, baking powder and salt. Add the butter and the remaining 3/4 cup of milk. Beat at low speed until blended, then beat at medium speed until smooth, 1 minute.
Beat in the egg white mixture in 3 batches.
In another bowl, using an electric mixer, beat the cream until soft peaks form.
Stir one-third of the whipped cream into the batter, then fold in the rest. Divide the batter between the pans and smooth the tops.
Bake for 25 minutes, until a toothpick inserted in the centers comes out clean. Let the cakes cool on a rack for 10 minutes. Un-mold the cakes and peel off the parchment. Invert the cakes and let cool completely.
Whipped Cream Frosting
Whip heavy cream to stiff peaks. Fold in sifted sugar and vanilla. Set aside in fridge.
Chocolate Ganache
In a double boiler or a pot filled with water and a bowl. Melt chocolate and heavy cream, stir until smooth.
Chocolate Shavings
Use a grater to make the shavings and a vegetable peeler to form the larger shavings.
Assembly
Frost one layer of cake with whipped cream frosting. Spread a layer of chocolate ganache onto the other layer of cake. Place last layer of cake on top and frost the sides and on top. Press chocolate shavings onto sides of cake. Lastly drizzle chocolate ganache on top and top with large chocolate shavings.
Refrigerate the cake.