Accordian Potatoes Recipe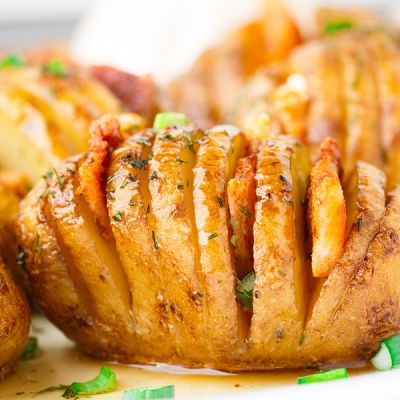 Accordian potatoes are an easy way to fancy up a classic and simple food. Pair this with a salmon or steak fillet for the perfect meal!
Ingredients
10 potatoes, scrubbed clean
2 bay leaf, chopped
fresh thyme sprig
salt
fresh ground pepper
2 Tablespoons olive oil
2 green onions, chopped
(Serves 10)
Directions
Preheat the oven to 375°F.
Cover a baking sheet with parchment paper.
Cut slices across the potatoes, being careful not to slice all the way through.
Insert some of the bay leaf and thyme leaves into the potato between each slice.
Transfer the potatoes to the prepared baking sheet and season with salt and pepper.
Drizzle over the 2 tablespoons of olive oil.
Transfer to the preheated oven and bake for 45 minutes to an hour, until soft on the inside.
Remove from the oven and sprinkle with green .
Serve hot.