Almond Butter Chocolate Balls Recipe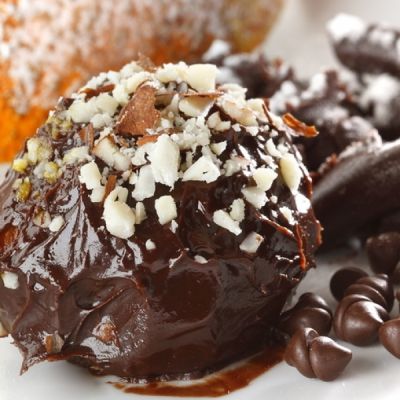 A sweet and delicious recipe for homemade almond butter chocolate balls. These are a great treat to bring to any party.
Ingredients
1 cup almond butter
3/4 cup confectioners sugar
1 cup graham cracker crumbs
2 cups semisweet chocolate chips
3 large squares semisweet chocolate, chopped
1 tablespoon shortening
1/2 cup almonds, chopped fine
Directions
In a medium bowl, mix together the almond butter and confectioners sugar until smooth. Stir in graham cracker crumbs until well blended. Form the dough into 1 inch balls by rolling in your hands, or by using a cookie scoop.
Melt the semisweet chocolate chips, semisweet chocolate squares, and the shortening in the top half of a double boiler.
Use a fork to dip the balls into the melted chocolate, and place on wax paper, sprinkle with nuts and cool until set.