Almond Butter Pie Recipe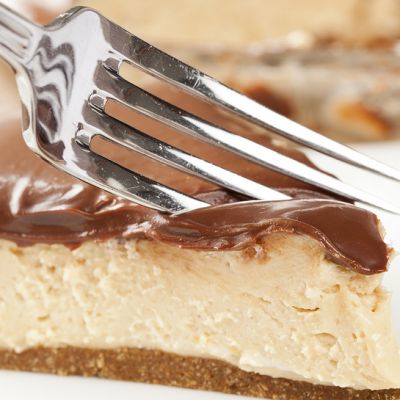 This almond butter pie recipe is a nice option if you want a nutty flavored dessert. There are ground almonds in the crust, almond butter in the filling and the pie is coated with a milk chocolate ganache.
Ingredients
Crust
1 1/2 cups graham crumbs
1/2 cup ground almonds
1/2 cup butter, melted
1/4 cup granulated sugar
Filling
1/2 cup creamy almond butter
1 cup cream cheese, softened
2 Tablespoons butter, softened
1/2 cup confectioners' sugar
2 cups heavy cream
Milk Chocolate Ganache
4 ounces milk chocolate
1/2 cup heavy cream
pinch of salt
Serves 6 - 8
Directions
Crust
Preheat the oven to 350 degrees F.
Mix together the graham crumbs, sugar and melted butter and press into pie plate.
Bake for 12-15 minutes. Set aside to let cool then put into the refrigerator to cool more before adding the filling.
Filling
Beat together butter, cream cheese, butter and confectioner's sugar until well incorporated. Set aside.
Whip heavy cream to soft peaks. Fold into cream cheese mixture until it's just incorporated. Pour into prepared crust. Chill for 2 hours in fridge.
Milk Chocolate Ganache
Chop the chocolate into fine pieces and put into a heat proof pot.
In a small pot, bring the heavy cream to a boil over medium to high heat.
Pour the boiling cream over the finely chopped chocolate.  Add a pinch of salt.
Leave to sit for 10 minutes and do not stir. Stirring will cool the ganache too quickly and make it grainy.
After 10 minutes, stir with a whisk until the ganache is nice and creamy.
Use a spatula to scrape down the sides to be sure the chocolate is off the bottom of the pot.
The ganache is ready to use. Let cool.
Pour cooled ganache over chilled pie. Chill for another hour and serve.