Almond Cake Recipe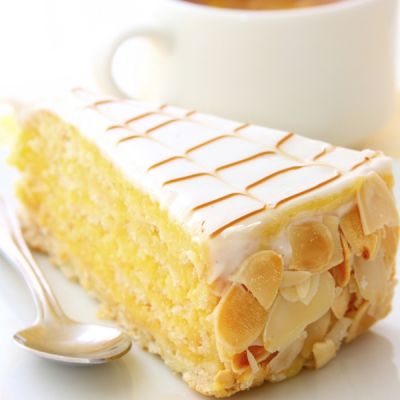 This almond cake recipe is made with a cake, drizzled with almond syrup that soaks in then coated with a vanilla glaze. The roasted almond slivers add a nutty flavor. This is a good cake to serve for afternoon coffee break.
Ingredients
Cake
1 cups all-purpose flour
1/2 cup finely ground blanched almonds
2 teaspoons baking powder
pinch of salt
2 teaspoons grated lemon zest
1/2 cup plain yogurt (2% or 3.5%)
1 cup sugar
3 large eggs
1/2 cup vegetable oil, such as grapeseed
Toasted Almonds
2/3 cup slivered almonds
Hot Almond Syrup
3/4 cup granulated sugar
6 Tablespoons water
1/2 teaspoon almond extract
Vanilla Glaze
1 cup confectioners' sugar
1/4 cup heavy cream
1/4 teaspoon vanilla.
Garnish
chocolate syrup
Directions
Preheat the oven to 350 degrees F.
Line the bottom of a 9 inch round cake pan with parchment paper and then grease the pan and the parchment with butter.
In a medium bowl whisk together the flour, almonds, baking powder and salt. Add the lemon zest and mix thoroughly.
In a large bowl, combine the yogurt, sugar and eggs, and mix well.
Add the flour mixture to the yogurt mixture and stir until just combined. Add the oil and stir well until it comes together into a smooth yellow batter.
Pour the batter into the prepared cake pan.
Bake the cake for 25 to 35 minutes until a toothpick or cake tester comes out clean. Do not over bake.
Cool the cake in the pan on a wire rack for 15 minutes.
Then invert the cake unto a large plate, remove the parchment paper and invert the cake back onto the wire rack so it sits upright.
Toast The Almonds
Put a piece of parchment paper onto a baking sheet.
Scatter the slivered almonds onto the parchment paper.
Place into the preheated oven and roast for about 5-7 minutes. Keep a very close eye on the nuts and as soon as they start to turn golden, remove the pan from the oven and set aside to cool.
Hot Almond Syrup
In medium size saucepan combine the sugar and water.
Bring to a boil until boil until the mixtures reaches 220F on a candy thermometer. Stir in the almond extract.
Pour the hot almond syrup over the cake and let it soak in.
Let the cake cool.
Vanilla Glaze
In a small bowl, mix together the confectioners' sugar, heavy cream and vanilla until smooth and the desired consistancy.
Assembly
Using knife, loosen sides between pan and cake, then release the springform pan.
Place the cake onto a cake dish for glazing.
Pour on the vanilla glaze and spread around to coat the top and sides of the cake.
Use your hands to apply the toasted almonds around the outside of the cake.
Optional Garnish - Drizzle lines of chocolate syrup on top of the *cake if desired.