Apple And Walnut Cake Recipe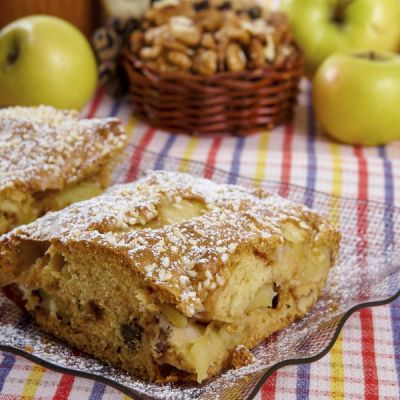 The smell of apples and spices is always enticing. This apple and walnut cake is delicious and best served fresh and slightly warm.
Ingredients
1 cup all purpose flour
1/2 cup whole wheat flour
1 cup brown sugar
1 1/2 cups apples, peeled and cut in medium size pieces
1 cup whole milk
1/2 cup chopped walnuts
1 teaspoon baking soda
1 teaspoon ground cinnamon
1/2 teaspoon nutmeg
1/2 teaspoon cardamom powder
1/2 teaspoon powdered clove
1/2 teaspoon powdered ginger
1 teaspoon pure vanilla extract
1/2 cup vegetable oil
1/4 cup sesame seeds
confectioners' sugar to dust
Directions
Preheat the oven to about 350 degrees F.
Grease and flour a 8x8 baking pan.
Mix all the dry ingredients.
While mixing add the milk, oil, and vanilla.
Mix well then add the the nuts and apple.
Pour into the baking pan, sprinkle the sesame seeds on top.
Place into the oven for 45 minutes.
Check to see if it is cooked by inserting a knife in the center of the cake. It will come out clean if baked through.
Remove the cake and place on a cooling rack.
Dust with confectioners' sugar if desired when cooled.