Apple Pie With Chocolate Recipe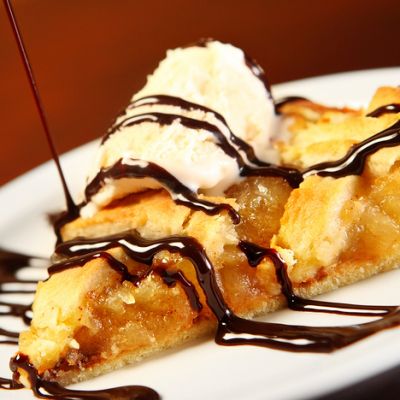 This apple pie recipe is made with a homemade crust and fresh apples, then is drizzled with homemade chocolate sauce and ice cream.
Ingredients
Makes (2) 9" Crusts
1 1/2 cups all purpose flour
3/4 teaspoon salt
3/4 cup butter
4-5 Tablespoons cold water
Apple Filling
5-6 apples pie apples (golden delicious)
2 Tablespoons lemon juice
1/2 cup brown sugar
1 teaspoon cinnamon
1/4 teaspoon salt
1 Tablespoon all purpose flour
1 Tablespoons butter
Chocolate Syrup
1 1/2 cups granulated sugar
3/4 cup unsweetened cocoa powder
1 cup water
dash of salt
1 teaspoon vanilla
Directions
PIE CRUST
Begin by placing the water in the freezer to cool for about 10 minutes.
To make a pie crust you will need a clean, flat counter top. You can also use a silicone baking mat.
To know exactly what size to roll your crust, just be sure that it is slightly bigger than your pie plate.
Sift the flour into bowl and mix together with the salt.
Cut in butter with a pastry cutter.
You can also use two butter knives if you dont have a pastry cutter.
Continue to cut work the mixture until it resembles the texture of coarse cornmeal.
Now, use a fork to mix in the cold water until it is just incorporated.
Its okay if you see little specks of butter, and flour and the dough is not smooth.
Use clean hands to form the dough together to form a ball.
Cut the ball into two pieces and store one in a bowl with a cloth over top so it does not dry out.
Sprinkle your working surface with a bit of flour, and keep the flour nearby in case your dough gets sticky you can add more on top of the dough and also on your rolling pin.
Flatten your ball down into a disc.
Use your rolling pin to roll out dough.
Push from the center and roll evenly to the edges.
Keep rolling and try to make a circle. If it is not perfect, it wont matter.
Dont overwork the crust
Gently transfer the dough onto your pie plate being careful not to stretch it.
APPLE PIE FILLING
Quarter, peel, core and slice the apples thinly.
Put them into a large bowl, pour on the lemon juice and use a spatula to stir into the apples. This will help to keep them from browning.
In a small mixing contained stir together the dry ingredients. Using a spatula, stir the mixture into the prepared chopped apples.
Break the butter into small bits and mix into the apple pie mixture as little chunks. The butter will melt and add flavor to this delicious pie filling.
Pour the prepared apple filling into the pie crust.
LATTICE TOP
Roll out the second piece of dough according to the same instructions as above.
Once it is in the shape of a circle (it is okay if it is not quite perfect), cut it into 13 even strips.
If you are looking down at the pie take the shortest strip and place it vertically on the left hand side.
Take your second shortest strip, and place it horizontally along the top of the pie.
Continue from the left side vertically, and the from the top down horizontally. You may need to pinch the edges down to the lower part of the pie crust.
Preheat oven to 400 degrees F.
Bake for 10 minutes at 400F then turn down heat to 350F for another for 30-35 minutes or until golden brown.
If the pie is browning too much, tent with aluminum foil.
Once baked, remove from oven and put onto a cooling rack to cool to room temperature. The pie will be very runny if you cut while hot, but will set up if you give it time to cool first.
Garnish with chocolate syrup and serve with ice cream if desired.
Chocolate Syrup
Make the chocolate syrup ahead of time so it will be cooled and ready to garnish your fresh apple pie.
Use a small saucepan on the stovetop.
Stir together the sugar, cocoa and salt. Add the water.
Heat the mixture over medium heat and bring to a boil.
Stir on occassion. Once the mixture has come to a boil, reduce the heat and cook one minute. Stir in the vanilla and let cool.
Once cooled, transfer the chocolate syrup to a squeeze bottle.