Apricot Jam Filled Sugar Cookies Recipe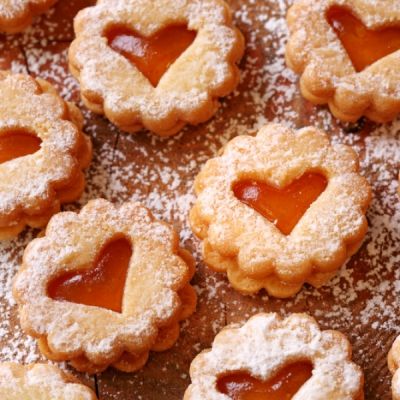 A Pretty and very yummy recipe for jam filled cookies. These are a family favorite sweet treat.
Ingredients
1/2 cup granulated sugar
1/2 cup butter
2 eggs
1/2 cup ground almonds
2 tsp baking powder
1 1/2 cups all purpose flour
1 cup apricot jam, or any flavor fruit jam
confectioners sugar for dusting
Directions
Preheat oven to 325 degrees F.
in a large bowl combine dry ingrediesnts. set aside
In large mixing bowl, beat butter, eggs and sugar until light and fluffy.
Gradually add flour mixture to wet ingredients. mix just until combined.
Wrap in plastic wrap and chill dough for atleast 1 hour.
Roll out on a well floured surface with a floured rolling pin, and cut into desired shapes. Half of the cookies need a window cut into the center.
Bake for 8 to 10 minutes or until done. Let cool on a wire rack.
Dust the cookies with confectioners sugar.
Spread jam on full cookies and top with a window cookie.