Avocado Lime Salad Recipe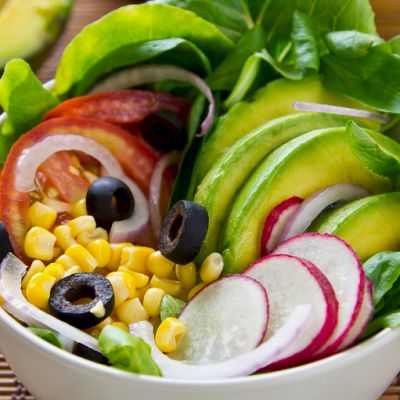 This avocado lime salad recipe is so nutritious and filling. The zest of lime dressing is the perfect complement to the sweetness from the veggies.
Ingredients
4 Tablespoons fresh lime juice
1/4 cup olive oil
2 Tablespoons balsamic vinegar
2 Tablespoons coarsely chopped fresh cilantro
2 cloves garlic, minced
2 Tablespoons honey
salt and pepper
4 cups romaine lettuce, ripped into bite-sized pieces
3 Roma tomatoes, cut in slices
3 medium ripe avocados, cut into slices
1/2 red onion, thinly sliced
1/2 cup canned black olives, pitted and sliced
1/2 cup corn kernels
2 radishes, thinly sliced
Directions
In a small bowl, whisk together lime juice, olive oil, vinegar, cilantro, garlic, honey, salt and pepper.
In large salad bowl, toss together lettuce, tomatoes, avocados, red onion, black olives, corn and radishes.
Drizzle with dressing and toss again.