Baby Potato Beef Stew With Herbs Recipe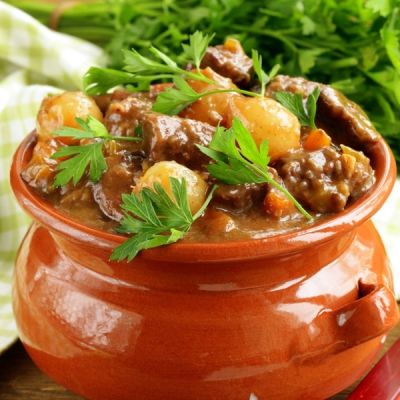 A warm and hearty recipe for beef stew with baby potatoes and herbs.
Ingredients
1 1/2 lbs beef chuck, cut into 2-inch cubes
1/2 teaspoon sea salt
1/2 teaspoon fresh cracked pepper
1 Tablespoon olive oil
2 Tablespoons flour
3 Tablespoons tomato paste
1 Tablespoon balsamic vinegar
1 1/3 cup beef stock
3 cloves garlic, crushed
1 teaspoon thyme
1 teaspoon rosemary, chopped fine
1 medium yellow onion, cut into 1-inch chunks
1 1/2 lbs baby potatoes
5 medium carrots, cut into pieces
Directions
Heat the oil in a large stew pot to medium high heat.
Place the beef chunks in pot and generously season with sea salt and pepper. Cook in each side of beef until nicely browned. dust with flour.
Add the tomato paste, vinegar and beef stock. Stirring to combine.
Add the garlic, bay leaf, herbs and rosemary. Top with the chopped onion, potatoes and carrots
Cover and reduce heat to low, simmer for 45-60 minutes.