Baby Shower Cupcakes Recipe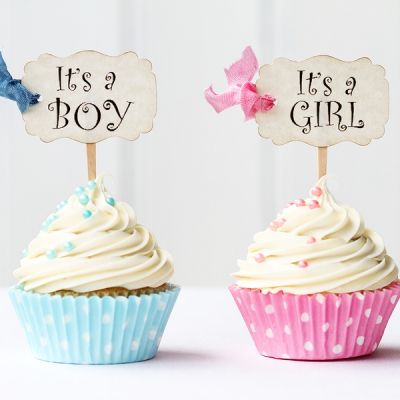 This cupcake recipe is for banana cupcakes with a tasty cream cheese frosting.
Ingredients
Cupcakes
1/2 cup butter
1/2 cup granulated sugar
3/4 cup brown sugar
2 bananas (mashed)
2 eggs
1 teaspoon pure vanilla extract
1 cup all purpose flour
1/2 teaspoon baking soda
1/4 teaspoon salt
1/4 cup vanilla yogurt
3/4 cup walnuts, finely chopped
Cream Cheese Frosting
4 ounces cream cheese, at room temperature
1 teaspoon pure vanilla extract
1 3/4 cups confectioners' sugar
Directions
Cupcakes
Preheat the oven to 350 degrees F.
Line a 12 muffin tin with paper liners.
Choose paper liners to suit the occasion.
Using an electric mixer, in a medium sized mixing bowl, cream the butter and sugars. Beat in the mashed banana.
Beat in the eggs, one at a time then the vanilla.
In a second bowl, stir the flour, baking soda and salt together.
Beat into the cream mixture in increments.
Mix in the yogurt and stir in the walnuts.
Place into the preheated oven and bake for 18-22 minutes or until a toothpick inserted near the center comes out clean.
Remove and place onto a cooling rack. Let sit for 5 minutes, then place the individual cupcakes onto the cooling rack. Frost once completely cooled.
Cream Cheese Frosting
Using an electric mixer, beat the cream cheese until smooth. Beat in the vanilla and add the confectioners' sugar in increments until you reach the desired consistency. You may not use all the confectioners' sugar or you may need to add a little more.
Make the frosting a good piping consistency.
Place the frosting into your piping tool and frost the cupcakes.
Garnish with cake candy beads.