Bacon And Mushroom Tagliatelle Recipe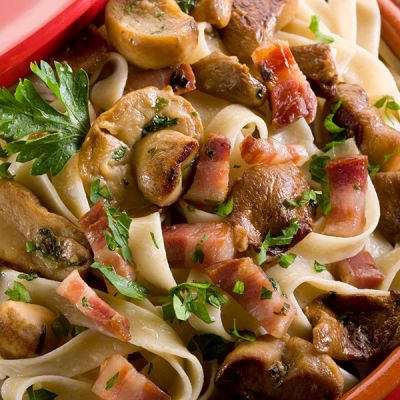 This recipe for bacon and mushroom tagliatelle is just a few steps to dinner in a hurry.
Ingredients
1/2lb tagliatelle
2 ounces diced bacon
2 cups mushrooms of any variety, cleaned and halved
2 cloves garlic, minced
1/4 teaspoon salt
1/4 teaspoon hot pepper flakes
2 Tablespoons chopped fresh basil
2 Tablespoons chopped fresh parsley
Directions
Cook pasta according to package directions in a large pot of boiling salted water; cook until al dente then drain well; place in a serving bowl and reserve.
In a large frying pan over medium heat,add bacon and cook until crisp.
Set bacon aside, and drain all put 1 Tablespoon of bacon fat, leaving in pan.
Cook mushrooms in bacon fat until browned.
Add garlic, salt and hot pepper flakes.
Cook, stirring, for about 10 minutes or until garlic is just slightly golden.
Stir in basil and parsley and toss with cooked pasta.
Serve with parmesan cheese on the side.