Bacon Wrapped Chicken Breast Recipe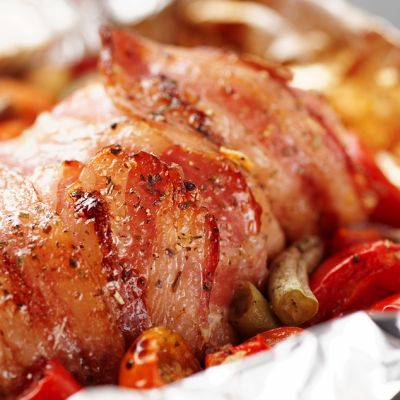 This bacon wrapped chicken breast recipe is so easy to make and the chicken is moist with bite after bite of delightful flavor.
Ingredients
Olive oil for greasing
1/4 teaspoon cayenne pepper
1/2 teaspoon garlic powder
1/2 teaspoon paprika
1/2 teaspoon fresh ground pepper
4 boneless chicken breasts
3 - 4 ounces smoked gouda cheese, cut into 4-8 strips
4 slices bacon
(Serves 4)
Directions
Preheat the oven to 350ºF.
Line a baking sheet with aluminium foil and lightly grease with olive oil.
In a small bowl, combine cayenne pepper, garlic powder, paprika and fresh pepper. Set aside.
Using a kitchen mallet, pound the chicken to approx 1/4" thickness.
Sprinkle the cayenne seasoning mixture over both sides of the flattened chicken.
Place 1 or 2 piece of cheese in the centre of the flattened chicken and tightly roll up the chicken.
Wrap each stuffed breast with a slice of bacon.
Set a skillet over medium-high heat and lightly grease with olive oil.
Place the bacon wrapped chicken breasts on the hot skillet, searing until the bacon is cooked and crisping.
Transfer the chicken breasts to the prepared baking sheet and place in the preheated oven.
Bake for 20-25 minutes, until chicken is just cooked through and bacon is crisp.
Remove from oven and allow the chicken breasts to sit for 5 minutes before serving.