Bacon Wrapped French Fries Recipe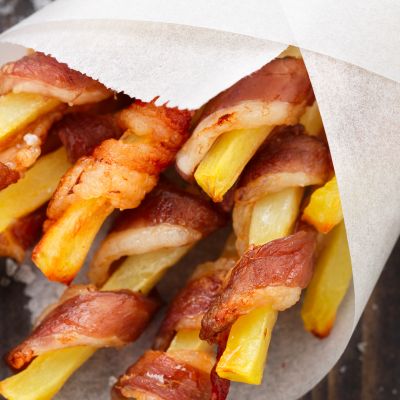 Bites of bacon and potatoes. The perfect combination of two favorite foods.
Ingredients
4 medium size potatoes
8 oz bacon (use a thin cut bacon)
Directions
Preheat oven to 425F.
Line a cookie sheet with parchment paper.
Peel the potatoes, wash and cut into thin fries between 1/4-1/2 inch in size. Dry any moisture that is on the potato with a paper towel.
Slice each piece of bacon in half, lengthwise and then in thirds, widthwise, so there will be 6 strips cut from 1 piece of bacon.
Wrap a strip of bacon around a potato stick.
Place on baking sheet.
Repeat until all the bacon is gone. If you have left over potatoes, put them on the cookie sheet as well, as they will bake nicely in all the rendered bacon fat.
Bake for 25 minutes until the potatoes feel soft.
Turn the oven to broil and let the tops get crispy, 2 minutes or so but careful to watch as they will burn easily.
Serve immediately.