Bacon Wrapped Meatballs Recipe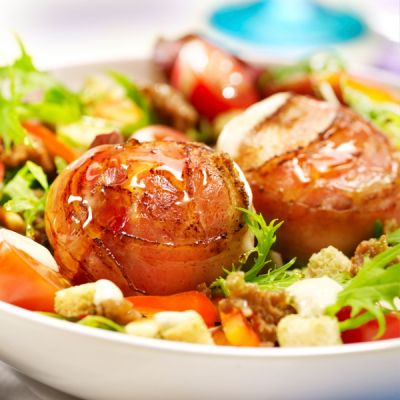 These bacon wrapped meatballs are easy to make and full of flavor. You will be surprised how quickly they disappear.
Ingredients
1/4 cup water
1/2 lb spinach
1 medium onion
5 garlic cloves
1 cup rolled oats
1/4 cup brown sugar
1 Tablespoon lemon pepper
1 Tablespoon soy sauce
1 Tablespoon chili flakes
1/2 Tablespoon dried oregano
1 lb ground beef, pork, chicken or turkey
1 package of bacon
Directions
Preheat oven to 400F.
Dice onions and garlic and place into food processor.
Wash spinach and place into food processor.
Add 1/4 cup water and blend together.
Pour mixture into a large bowl and mix in rolled oats, brown sugar, lemon pepper, soy sauce, chili flakes, oregano, and ground meat and set aside.
Take bacon out and cut each strip into 3 pieces.
Roll the meat mixture into 1 inch balls, and wrap in bacon pieces.
Place the meatballs onto a parchment lined baking tray so the meatball (rather than the bacon) is touching the pan.
Bake for 40 minutes or until the bacon has browned and the inside of the meatballs are brown and not pink.